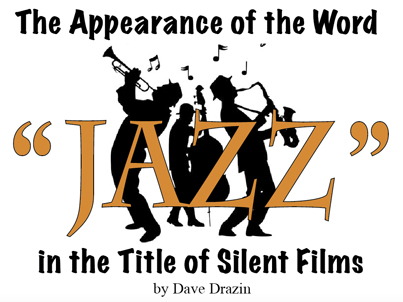 Before the word "Jazz" appeared in a title of a silent film it first appeared in the images. The earliest appearance of a jazz-related word that I've come across is in a still from a lost "split-reel" (meaning it was seven or eight minutes long) comedy of 1914 made by the Lubin company called Good Cider. Oliver Hardy appeared in a supporting role in the first year of his film career. This was roughly twelve years before he and Stan Laurel were teamed.
The plot description in The Bioscope magazine states the following: "Various additions to a barrel of cider and its ultimate end on a fairground are the means of hilarious scenes,"(1) at the Jasbo County Fair. The Lubin films were made in Florida. We can only wonder about the migration of the word Jasbo to that location.
In the lost two-reel (meaning it ran between seventeen and twenty-five minutes) Roscoe Arbuckle comedy that featured Buster Keaton called A Country Hero, released December 10, 1917, it is also a production still that allows us to see that the Jasbo County Fair has become the Jazzville Hotel. The Motion Picture World (2) describes the plot as involving rival blacksmith shop owners vying for the attention of Alice Lake. Perhaps the film offered a visual component to "Livery Stable Blues". As the recordings of the Original Dixieland Jazz Band document, jazz in 1917 included rural elements and provoked laughs.
The year 1919 provided a bumper crop of film titles that included the word jazz. Released March 13, 1919 by Vitagraph, Jazz and Jailbirds was a Jimmy Aubrey comedy that also had Oliver Hardy as "I. M. Ruff". (3) The card from the Ronald Williams Library Motion Picture Censorship Archive at Northeastern IL University called it "a Restaurant Jazz Mixup." We can't know exactly what that means.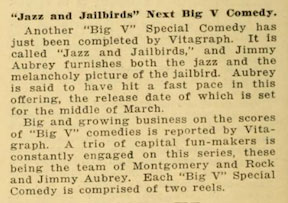 Young Mr. Jazz, released by Rolin (an early Hal Roach company) on May 4, 1919 (4) starred Harold Lloyd, Bebe Daniels, Snub Pollard and Bud Jamison. This is the earliest of these films available for viewing. Harold and Bebe are out for a night of slumming and, trailed by her anxious dad, visit a "clip joint" defined as "a bar that specializes in robbing patrons." (5) This is a fast-moving one-reel comedy. Once he catches on to the crooks and pickpockets, the bar full of thugs is no match for hyperactive Harold's relentless pummeling. He wins Bebe and her dad's approval by rescuing them from the crooks' vicious clutches.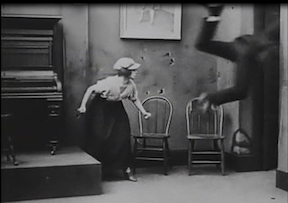 A Jazzed Honeymoon, released June 27, 1919 (6) is another Harold Lloyd one-reel comedy. It was released by Rolin and directed by Hal Roach. Most of the film is included in one of the Harold Lloyd's World of Comedy film compilations, and a clip can be seen on YouTube. A review says, "Harold and Bebe are newlyweds. When setting off towards their honeymoon Harold is mistakenly left behind. But when he catches up with her at the ship, he is soon put to work as an engine room worker." (7)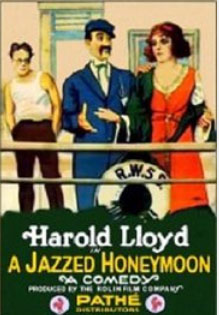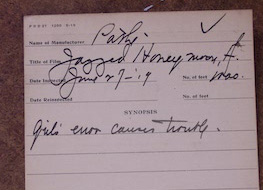 The Jazz Monkey (released July 21, 1919), was made by Century, which released comedy shorts through Universal, and starred Joe Martin, an orangutan who was given his own series. He was shown in several full-page ads in the Motion Picture World in which he is depicted as speaking to us. His sad demise must be one of the most repellent episodes in silent-film history. (8)
The Jazz Instructors, released by Fox in August 1919, was a six-minute Mutt and Jeff cartoon. Other than the censorship card (9), there was no information available about it.
The Sultan of Jazz (released December 27, 1919) was a o-reel comedy. It was rejected by the Chicago censors, who wrote: "This picture shows many obscene costumes and dances, and is therefore rejected." (10)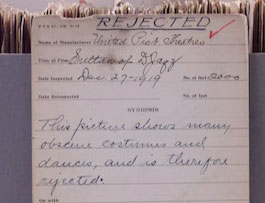 The Chicago censorship archive tells us all that we can know about some of these lost films. Certain cities and certain states had their own censorship boards, and they made their own choices about what to cut out. In some cases extant films that have been recovered especially from European archives are intact, no cuts having been made.
The Jazz Bandits was a Fox comedy. It was released on June 21, 1920 and was directed by Roy del Ruth. It starred Ethel Teare and Glen Cavender. The censorship card states "Automatic Restaurant." They made three cuts: "second scene of girl about to pull gun from shoulder, silhouette of girl undressing behind screen, and view of girl in undergarments on street in store."
Little Miss Jazz was made by Rolin. It was released by Pathe July 6 or August 8, 1920 and was directed by Fred Newmeyer, who directed Harold Lloyd in Safety Last in 1923. This short comedy starred Beatrice laPlante. The Chicago censors ordered 14 cuts, which is quite a lot for a one-reel film. A print exists, and it may be uncut. An April 13, 2006 review by wmorrow59 states: "Despite the title, there's no suggestion of jazz or any other music in this silent comedy shortshe's lively, zippy and thoroughly modern." (11)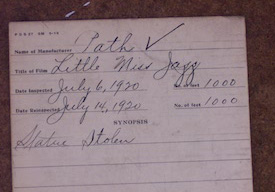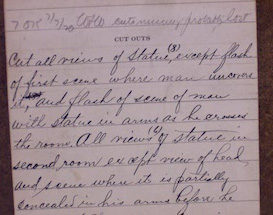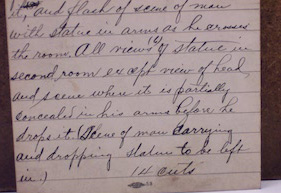 A Girl with a Jazz Heart, released October 15, 1920, was a fifty-minute feature from the Goldwyn Studio, directed by Lawrence C. Windom and starring Madge Kennedy. (12) Evidently it's a lost film. The censorship archive states the following: "5 reels, Country Girl's Romance, Reel four ­ cut out all shimmy scenes except first and last scene of dancer, Reel five ­ cut out girl sitting in chair in underwear as man peeks through key hole, six cuts."
The House That Jazz Built, another lost film, was a six-reel dramatic feature made by Realart, directed by Penrhyn Stanlaws (who also had a career as an illustrator for magazines), and starring Wanda Hawley, Forest Stanley and Gladys George. (13) The censorship archive's plot summary states: "Divorce averted."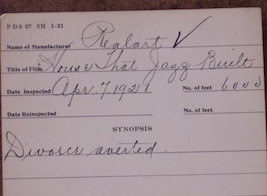 The Jazz Hounds (lost) was released June 20, 1921 by the Reel (?) Production Co. The censorship archive card says: "Fake detectives exposed. Reel two ­ cut scene of girl where gown is low as approaches man on floor."


The Jazz Weekly (presumed lost) was released in two reels on March 17, 1924. Whether it was a weekly series is impossible to determine. The censorship card says: "cut scene of colored baby with dice, including giving baby dice and baby throwing dice, one cut."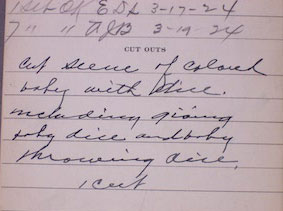 The Jazz Girl (presumed lost) from 1926 with Edith Roberts is: "about an amateur girl detective who falls in love with a newspaper reporter while breaking up a gang of rum runners." (16)
As the Twenties progressed, references to jazz abound in films of all types, but less so in the titles of films. For instance in King Vidor's The Crowd, an MGM feature from 1928, the protagonist, played by James Murray, is one of hundreds who work at an ad agency. His search for catchy slogans leads him to invent "Jazz-o-lene." Within ten years of the world war, the word "jazz" had permeated popular culture and the media.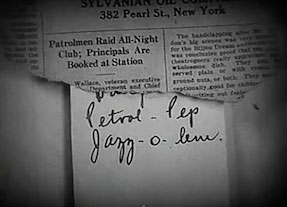 Jazz Mad, a 1928 Universal Jewel feature, stars Jean Hersholt, Marian Nixon and the Hollywood Bowl Symphony Orchestra. A paraphrased plot synopsis is "Cornball plot about Hersholt, a serious composer who cannot sell his music, finds himself rushing in at the last moment to conduct his unpublished symphony, thanks to his daughter. This enables her to marry the son of a super snob. Evidently this lent itself to the new technology of synchronized music." (17) A print of this film exists.
Though sound was in, 1929 was still a big year for silents, with many films made in two versions to accommodate theaters wired for sound and those that were not. Some new releases played in both silent theaters with accompanists and sound theaters simultaneously!
Jazzland (lost) was released by Gotham January 8, 1929 or maybe late 1928 and was a seven- or eight- reel feature. (18) It was directed by Dallas M. Fitzgerald and starred Bryant Washburn and Virginia Lee Corbin. The censorship archive card states: "Murderer caught. Cut note reading "This is our last warning ­ Lay off Jazzland or we'll get you." and insert "This is our last warning ­ Lay off Jazzland." A plot synopsis states: "In an attempt to prevent a big time night club from opening in their small New England town, a newspaper reporter and his brother seek out the identity of the owner. The brother is murdered at the club, and leading lady's sister gets slapped around a bit but, in the end, the criminals get theirs. (19)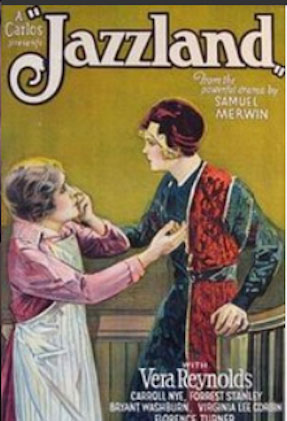 If you've stuck with me, it might appear that silent films with the word "jazz" in their titles have nothing to do with jazz music. As I'm a pianist who accompanies silent films, it's my contention that silent comedies in particular are a type of jazz. They have an opening theme, then a series of solo turns and events which finally let loose at the end with a wild out chorus. The main difference between the way traditional jazz is played today and silent comedies is duration. A one-reel film of from twelve to sixteen minutes is short for a film, but it's long for a song.
A small article from the Moving Picture World of March 1919 says: "Jazz Band Interprets Comedy Pictures; The management of the Imperial Theater has made several changes of late in its musical organizationA second organization of twelve men has been added, these making up a jazz band to be used in interpreting the comedy pictures exclusively." How well this actually worked is unknown but they would have had to have played longer than the length of a 78rpm record side.
Considering how few records from 1914 ­ 1921 are classified as jazz by 21st century perceptions, it might seem paradoxical how many times films from those years make the word visible. After the shock of the world war, live music was the sound of jazz, but another big part was the attitude of the jazz kids packing the movie theaters and laughing their heads off at the jazz kids on the big screen.
References:
1.) Laurel or Hardy by Rob Stone, Split Reel, 1st Edition September 1996.
2.) Moving Picture World, December 8, 1917.
3.) Internet Movie Database.
4.) Imdb.
5.) Imdb.
6.) Northeastern Illinois University Ronald Williams Library Censorship Archive.
7.) Imdb.
8.) Whatever Happened to Baby Peggy?, by Diana Serra Cary, St. Martin's Press 1996, Pages 44-45.
9.) Northeastern Illinois University Ronald Williams Library Censorship Archive.
10.) Northeastern Illinois University Ronald Williams Library Censorship Archive.
11.) Imdb.
12.) Imdb.
13.) Imdb.
14.) Imdb.
15.) Robert B. Connelly, The Silents, Silent Feature Films 1910 ­ 1936, December Press 1998.
16.) Robert B. Connelly, The Silents, Silent Feature Films 1910 ­ 1936, December Press 1998.
17.) Robert B. Connelly, The Silents, Silent Feature Films 1910 ­ 1936, December Press 1998.
18.) Northeastern Illinois University Ronald Williams Library Censorship Archive.
19.) Robert B. Connelly, The Silents, Silent Feature Films 1910 ­ 1936, December Press 1998.
copyright 2018 by Dave Drazin