Kudos to Bright Shining City Productions of Austin, TX, for the superb collection "Pola Negri: The Iconic Collection - The Early Films." Here are four of the tempestuous and controversial silent siren's early films digitally restored and with original piano accompaniment. The set includes a polished eight-page booklet, along with the three DVD's that include many extras. Bonus materials include clips from the award winning documentary "Pola Negri: Life Is A Dream In Cinema" and a musical tango vignette to Pola Negri's recording of "Ich Hab An Dich Gedacht" by director and choreographer Mariusz Kotowski, Also included is a 14 photo slideshow and Negri's in a slide show format.
"The Polish Dancer" (1917 - 48 minutes)
The story is typical soap opera. Pola (her name in the film) leaves home because of the abuse of her father. Enlisting the aid of her boyfriend, she gets him drunk, steals his money, and strikes out on her own. She becomes a famous dancer, and a wealthy married man, Alexi, falls in love with her - although she does not know he's married. As plans are being made to get married, she learns of his deception and refuses any more association with him. However, her jealous boyfriend finds her, learns of her impending marriage, and kills her. Alexi goes back to his wife and daughter, but, too late - the wife has died from grief.
Negri's acting in this film and only a year later in "The Yellow Ticket" (also in the set) are worlds apart. Directed by Aleksander Hertz and having the distinction as the first feature film made in Poland, "The Polish Dancer" includes some of the most extreme gesticulating to be found in a silent film, yet Negri's sexuality still comes through in many of her scenes, especially her exotic dance with a male partner - a performance, that, by the way, shows that she was, indeed, an accomplished dancer. The intertitles, which are provided to us in English through Bright Shining City's restoration, are, unfortunately, easily criticized. For example, her father has caught her coming in late and literally beats her with his fists as she lies on the floor. After this demonstration, an intertitle says, "Pola is broken-hearted after fighting with her father." What an understatement! It's a wonder she wasn't "broken-boned!" Following the breakup with Pola, we are told in another, that Alexi goes "crawling back" to his wife. This is done by writing a letter, the text of which says, "I made a big mistake, Please, forgive me, Sonya." Without leveling too much criticism toward the lack of sophistication in the intertitles, we must remind ourselves that this is an early effort in Polish cinema- and we are to be thankful to Bright Shining City Productions that this historically significant treasure has been restored with an excellent original piano score and made available to us on DVD. The film has some scratches, spottiness, and a little mottling in one scene. Contrast is good, and sharpness is only fair - however, the quality is certainly at a level to provide an enjoyable viewing experience.
"The Yellow Ticket" (1918 - 52 minutes)
The most striking contrast that the viewer will see on the next film in the set is in Negri's performance. Exhibiting a style one would expect to see 10 years after "The Polish Dancer," we are, instead, seeing a restrained, subtly emotional performance from Negri only a year later that attests to her talent. A much better film than "The Polish Dancer," "The Yellow Ticket" is still melodrama yet with some twists that aren't entirely surprising, but welcome, nonetheless.
Lea wants to learn as much as she can to help her aged father who, unfortunately, dies before she is able to provide for him. Before her father dies, though, he gives her tutor a diary that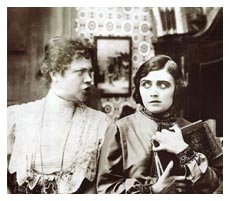 tells how Lea's dying mother left her with the Jewish couple as a baby - a fact of which Lea knows nothing. After her father's death, the tutor gives Lea a book his deceased sister had as a going away present. She wishes to leave Warsaw and go to St. Petersburg to study. However, the only way for a Jew at that time to engage in such an endeavor would be to get permission from the government. An infamous practice at the time was for Jewish women to get a "Yellow Ticket," which was permission to be a prostitute. However, many women of the time did this only as a guise to get worthwhile jobs or seek a higher education. The title of this film is obviously taken from that practice; however, Lea is unable to obtain a "yellow ticket." Instead, she finds papers in the book her tutor gave her that will allow her to impersonate the deceased sister, Sophie. A girl she meets finds her a room in a boarding house that, oddly enough, doesn't cost anything, which is where she stays while she's at the university. Later, as she becomes a star student, she finds that the free room does come with a price - she must "socialize" with the men at a nightclub owned by the landlady - a practice that, although doesn't involve sex with the men, does repulse Lea/Sophie. She meets a handsome student at the university who, when he learns of her work in the nightclub, pushes her away. Distraught, he jumps out of a window to commit suicide. The films takes us through a series of turns and twists that result in us learning that Lea is really the daughter of her non-Jewish professor - and it is his expertise in the operating room that saves her life.
As noted, this story has more to offer than "The Polish Dancer" with literate intertitles, commendable acting by Negri and her costars, and a richer storyline. The improvement in this cinematic offering over "The Polish Dancer" during the course of one year is rather amazing. The direction is by Victor Janson and Eugen Illes, and, interestingly, it is co-written by Hanns (sic) Kraly who either wrote or did screenplays for such films as Constance Talmadge's "Her Night of Romance" (1924) and "Her Sister from Paris" (1925), sister Norma Talmadge's "Kiki" (1926), Rudolph Valentino's "The Eagle" (1924), Ramon Novarro and Norma Shearer's "The Student Prince in Old Heidelberg" (1927), Corinne Griffith's "The Garden of Eden" (1928), and many more both silent and sound films.
Heretofore unavailable on video, "The Yellow Ticket" will be a treat for any Pola Negri fan.
"The Eyes of the Mummy Ma" (1918 - 58 minutes)
Made the same year as "The Yellow Ticket," the story is somewhat weak and, although directed by the talented Ernst Lubitsch, don't look for any of the imaginative and clever touches that were the hallmark of such films as "The Marriage Circle" (1924) and "Lady Windemere's Fan" (1925).
Negri is an Egyptian girl, Ma, who has been held captive by a Svengali-like character, Rapu. Rapu is played devilishly and excellently by Emil Jannings. She is rescued by a visiting
adventurer, Wendland, and introduced into European society where she becomes very popular on the stage for her dancing. After almost being killed by Wendland, Rapu is found near death in the desert, rescued by Prince Hohenfel, and taken back at Rapu's request "to serve" the prince in gratitude for saving his life. Rapu does, however, vow revenge on Ma. Coincidentally, they end up in the same city, and Rapu discovers her at a performance. He later goes to Wendland's house to exact his revenge just at a time when Wendland is away visiting the Prince. Ma tries to escape, but Rapu's piercing eyes draw her to him. As he holds her in his arms, she succumbs from fright and falls to the floor dead. Rapu, in remorse, kisses her one last time, then kills himself with the knife he had planned to use to murder her.
Yes, the story does sound preposterous; however, Negri and Jannings give excellent performances. The best part of the film is likely the Griffithian ending when Rapu climbs up the vines to Ma's window, breaks the window with his fist, and crawls into the room as she panics and tries to call for help. The cross-cutting to the Prince and Wendland lead us to believe there will be a last minute rescue, although - unlike Griffith - Lubitsch chooses a sad ending. Actually, Janning's - and Lubitsch's - best moment is when he climbs up to Ma's room, and she looks over horrified to see only a hand flat against the window. Jannings rises up in a stiff, glaring Nosferatu-like fashion to provide a terrifying moment for Ma and the viewer.
Although not up to the best of the American made films at that time, "The Eyes of the Mummy Ma" is enjoyable nonetheless. The scenes in the desert were filmed in a Berlin quarry, and the mummy's tomb is obviously inexpensively made. The European scenes are somewhat more convincing, although it is obvious this was made on a tight budget. What is most significant is that this was the first Negri-Lubitsch collaboration with the next being "Carmen" (1918) followed by "Madame Dubarry" (1919),"Sumurun" (1920), "The Mountain Cat" (1921) and "The Flame" (1922) - most known by other titles, as well. These cemented Negri's fame not only in Europe, but in America, as well - most notably "Madame Dubarry" which was renamed "Passion" for American release.

The quality of the print is good with mostly consistent contrast. although definition and sharpness are somewhat lacking. Again, we must reiterate that Bright Shining City Productions has done an excellent job in bringing these early Negri films to DVD with a level of quality that silent film fans will appreciate. The film runs 58 minutes, which is appropriate for the
story, and Rick DeJonge's piano score is excellent. It must be mentioned that there are a couple of "flubs" on titles - one on an opening credit identifying Hanns Kraly as Hanns Kruly, and identifying Wendland as Wenderland on one intertitle.
"Sappho" (1921 - 82 minutes)
See the commentary on "Sappho" as our "Feature of the Month."
"Pola Negri: Life is a Dream in Cinema" (2006 - 89 minutes)
Also highly recommended is the 2006 documentary "Pola Negri: Life is a Dream in Cinema" offered by Bright Shining City Productions. Produced by Mariusz Kotowski, this engrossing documentary takes the viewer on an enjoyable and enlightening journey through the life and film career of Negri from her early days in Poland and Germany to her final years in San Antonio, TX. Narrated by Cyndi Williams (of "Laverne and Shirley" fame), we are treated to comments by film professor and historian Jeannine Basinger (who wrote about Negri in her excellent book Silent Stars - Wesleyan, 2000), Eli Wallach and Hayley Mills who co-starred with Negri in her last film, "The Moon Spinners" (1964), Paramount Producer A.C. Lyles and others. For silent movie fans, it's an extra treat to hear Negri's voice in sound films, as well as proof that she was an accomplished singer. Yes, the media hype that she so loved is there, as well, including her affair/engagement to Charlie Chaplin and her much-publicized emotional melt-down at the death of Rudolph Valentino. Great photos, excellent video clips, absorbing commentary and a straightforward telling of this diva's life makes "Pola Negri: Life is a Dream in Cinema" a worthy, and must-have, companion to Bright Shining City Productions' "Pola Negri: The Iconic Collection - The Early Films."

---
Visit Bright Shining City Productions' website for ordering information.
---