Francis X. Bushman had starred in a handful of rather average yet profitable films for the Metro Pictures Corporation by March of 1916. Making features of this sort was unchallenging to the restless actor. He was looking for a part in which he could immerse himself. Since reading General Lew Wallace's mammoth 1880 novel, Ben-Hur: A Tale of the Christ, he had longed to play the lead role. He finally decided to put his dream into reality.
Prepared to offer up to $1,000, Metro inquired about purchasing the Ben-Hur screen rights. Word came back that the asking price was $100,000.
"Ben-Hur was definitely out," Bushman said. "So I thought and thought and finally decided to use the most famous story by the world's most famous author-and it wouldn't cost the studio a cent."
Romeo and Juliet, of course, is William Shakespeare's timeless tale of two teenage "star-cross'd lovers" of Verona, whose untimely deaths ultimately unite their feuding families. The play was written sometime between 1591 and 1597, and has been performed continuously since. It was inevitable that the story-with its many twists and turns-would be translated into motion pictures. The American Vitagraph studio was the first to do so, in 1908. A one-reel version of the play was filmed in Manhattan's Central Park; it was directed by J. Stuart Blackton and starred Paul Panzer and Florence Lawrence. Francis X. Bushman, though, wanted to be the first to bring Shakespeare to the screen "in a BIG way."
The Theatre World Reacts
When word of his ambitious project reached the critics, many jeered. One skeptic asked, "Why murder the most beautiful play Shakespeare ever wrote by making a screen farce of it? The public does not want Shakespeare in movies: it wants murders and melodrama. Even if it did want Romeo and Juliet, the lines would be lost. After seeing Edward Sothern and Julia Marlowe play Romeo and Juliet I am not eager to see a farcical version in celluloid."
Bushman was unfazed by this negativity and jumped wholeheartedly into the endeavor. Metro released him from his one-picture-a-month clause to allow ample time for what was sure to be a special feature. He helped to adapt the play for the screen and wrote all the subtitles himself. The words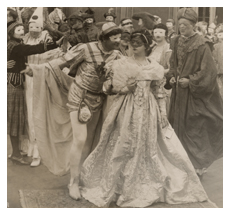 spoken by the actors and used on the title cards were completely faithful to the original text. Supporting Bushman and Bayne's Romeo and Juliet were a number of Metro's contract players, including Helen Dunbar and Robert Cummings. Bushman also hired several accomplished actors from various Shakespearean troupes as he respected their familiarity with the Bard's work.
The Production
Metro spared no expense in bringing Romeo and Juliet to life. Replicas of medieval Verona streets were constructed in the center of Brighton Beach. The elaborate sets had to be completely rebuilt when a terrific storm whipped through the area. Other exteriors were filmed at Greenwich, Connecticut, with interiors shot in the New York studio. For the Capulet home, director John W. Noble utilized an authentic castle that he discovered in one of the city's neighborhoods.
Beverly Bayne was largely responsible for the costuming. In an interview with Ladies World, she discussed what this entailed: "Not only did I buy all the materials used in [my] seven costumes, but I helped Mr. Bushman shop for 'Romeo,' and you've no idea how difficult it was in those war years to find the velvets we needed. Not only did we search the department stores, but we forced our way into the wholesale establishments.
"From Juliet's entrance, as a happy, joyous care-free girl, to the scene of her banishment [Bayne continued], I used light costumes, then darker colorings to express tragedy, until I came to the death scene itself. Then I chose silver tissue to express the soul of the girl and pearls for her tears. The dark, drab drapery which I wore in the potion scene struck the note of tragedy even on the screen. Colors photograph either light or dark, but I have discovered that certain fabrics and tones of colors are far more expressive than others. We build up by the aid of costuming, a complete figure of comedy or tragedy as the role demands."
According to Bushman, John W. Noble proved to be an undependable director; he claimed that he was forced to step in and direct the film himself. Noble may have been somewhat preoccupied. During that time he directed six or seven other films. Fortunately, he had a first-rate crew on Romeo and Juliet: there were no less than six assistant directors assigned to the production. Also making invaluable contributions were scenarists John Arthur and Rudolph De Cordova and expert cameraman R.J. Berquist.
During production, Bushman and company began to realize the importance of the feature's eventual presentation. Metro therefore hired Irene and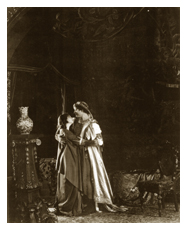 Samuel Berg to compile an appropriate musical score for theater orchestras. As a basis for the arrangement, the Bergs used Gounod's "Romeo and Juliet" and Tchaikovsky's symphony of the same title. Into the score were motifs for each of the chief characters. In the primary scenes the music was arranged so as to synchronize with the action down to the last detail. The love theme was taken from Tchaikovsky; those for the title characters were found in Gounod.
Samuel Berg commented favorably on the composition: "The beauty of the 'Romeo and Juliet' musical arrangement is that while it will be produced in the larger houses with an orchestra of forty pieces, it nevertheless can be rendered with equally satisfying results by an organ or violins and a piano."
The Publicity Campaign
On May 20, 1916, Metro announced that it had Romeo and Juliet in production in observance of the Shakespeare Tercentenary. A two-page spread appeared in the Motion Picture News trade magazine on October 14th. It read:
METRO believes its best service to the exhibitor
lies in productions that guarantee great box office
returns and offers
ROMEO AND JULIET
as the supreme profit maker of the year.
PRODUCED at a cost of $250,000 with a cast of 600
chosen players, this, the Love Story of the Ages
eclipses the possibilities of the spoken drama.
A CLASSIC in Eight Acts, a heart compelling drama
with a sure appeal to every man, woman and child
in the world.
FRANCIS X. BUSHMAN
Crowned King of the Movies and
BEVERLY BAYNE
Queen of the Motion Pictures
in the titular roles
BOOKING NOW as a Special Production at
ALL METRO EXCHANGES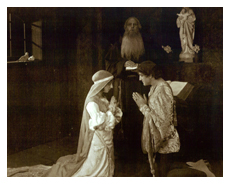 Some of the men and women hired as extras for the film were actually working for producer William Fox. At the end of each day's shooting the spies would report back to Fox, who was secretly preparing his own version of Romeo and Juliet, starring Harry Hilliard and screen vamp Theda Bara. From his employees Fox learned Metro's approach to putting the play on film. This insight enabled him to produce a shorter, less expensive motion picture that could be rented out to exhibitors for a lower price.
"I could cheerfully have strangled Fox with my bare hands!" Bushman later wrote. "He had the nerve to use some of the exact subtitles which I had spent sleepless nights epitomizing from the original. It was a dirty trick-most unethical-but in those days you couldn't go to court with any hope of proving you had been wronged in a legal sense. You couldn't even strangle the man without being charged with murder."
Bushman realized that the only way to counter the sly Fox was through publicity. And no one could better handle a picture's promotion than Harry Reichenbach. With Harry at the helm, trade advertisements quickly took on this tone:
There is ONE and ONLY ONE
Special Production de Luxe of
Shakespeare's Love Story of the Ages.
DON'T BE MISLED
BY INFERIOR IMITATIONS OF A MASTERPIECE!
Reichenbach also hit the New York front pages with a notice that "the most colossal banner in the history of the world will be strung across Times Square to publicize the Metro production of Romeo and Juliet." City officials immediately stormed over to the Metro office. Such a banner, they said, would grossly violate all ordinances and under no conditions would a permit be granted.
Harry smiled inscrutably. "And what happens if the banner is put up without a permit?"
"You'll be prosecuted to the fullest extent of the law."
"I thought so." By now he was positively beaming.
Later that day Bushman got a call from his crackerjack PR man. "Bush, they're going to throw me in jail!" he said happily. "Now our picture will get columns and columns of free advertising!"
The night before the premiere a banner was strung up on cables. Stretching across Times Square was the message,
FRANCIS X. BUSHMAN AND BEVERLY BAYNE IN "ROMEO AND JULIET"-BROADWAY THEATER
After accomplishing this task, Harry stood under the banner and waited. To his complete disgust, the authorities ignored him.
"These bureaucrats," he snorted. "Wouldn't you know it? You can never depend on them!"
The Premiere
Romeo and Juliet opened at the Broadway Theater in October of 1916. The press had announced that Bushman and Bayne would appear in person at the theater. The two barely made it, however, as automobiles and streetcars were jammed for a mile in every direction; the traffic was at a complete standstill. It seemed as though everyone in New York City wanted to be among thefirst to see Metro's highly touted love story and its stars.A huge crowd of admirers filled the theater while hundreds more waited outside to gain admittance. It took half a dozen of the theater's security guards to hold back the avalanche of fans while Bushman and Bayne were ushered totheir box. After they were seated, the houselights went down and the beautiful tale was unveiled on the screen as the orchestra rendered its majestic fantasy. The entire audience sat spellbound. When the film ended, the spectators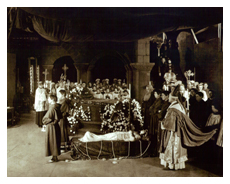 broke into rapturous applause. Bushman and Bayne stepped onto the stage as the ovation reached its zenith. It was said that the ensuing cheers lasted longer than that accorded the nominee for president at the national convention.
"But the most incredible part of the night was trying to leave the theater in one piece," Bushman recalled. "We were carried-actually carried-to our car! You'd have thought it was raining flowers the way they pelted down on us."
The Reviews
According to reviews, the critics loved Metro's Romeo and Juliet as much as the opening night audience.

"A picture that deserves to rank with the classics."
-Dramatic Mirror
"Like a beautiful dream."
-New York Evening Journal
" a picture of universal appeal will live forever as a classic masterpiece and a triumph of dramatic Screen construction."
-Motion Picture News
"Bushman is a superb Romeo, performing with discretion, dignity, an unusual amount of reserve, and astounding sincerity."
-Photoplay
"a realization in pictures fully entitled to rank with Shakespeare's immortal lines."
-Cinema News, England
"Mr. Bushman, above all else, possesses the physique of a 'well-governed youth,' of 'man to encounter Tybalt'; he appears to unusual advantage in the scanted garb of the period-in the language of Juliet's Nurse, 'his leg excels all men's.' He fits the part, and he plays it."
-Moving Picture World
Fox's Romeo and Juliet, which opened that same week, also received its share of positive reviews. Critics compared the photoplays and found Fox's six-reel version to have better interiors, while Metro's eight-reeler had more effective exteriors and crowd scenes. Still, it is the Bushman and Bayne production that historians Anthony Slide and Edward Wagenknecht deemed "the most auspicious American film version of a Shakespearian play in the teens."
It would be fascinating to be able to view these films today. Alas, that is not possible. Shakespeare's play may be immortal, but both of the 1916 film versions are lost.
King of the Movies: Francis X. Bushman (BearManor Media, 2009) is available on Amazon.com for $24.95. Packed with information and rare photographs, this 363-paged biography belongs in the library of every true aficionado of the silent era.

copyright 2009 by Lon and Debra Davis; all rights reserved
---
Back to "Articles and Essays" page