A superstar from day one of her career, "the girl with the bee-stung lips" was never forced to "pay her dues." The glamorous Mae Murray's first footfall on stage stopped the Ziegfeld Follies. She proceeded to reach the pinnacle of silent cinema superstardom, performing in more than 40 popular programmers. Her performance in Erich von Stroheim's l925 "The Merry Widow" boasted the largest box office for any studio that year, and would remain the most successful film either artist ever made.
Yet, despite the position she held so long and the consistent profitability of her films, Mae's career would topple shortly after her triumphant "Merry Widow," and her legacy would be scant. Probably no giant of the silent era is so forgotten today as Mae Murray. Those few who have heard of her generally know only of her Prima Donna temperament and her excesses as silent movie royalty. Others may be aware of Murray's post-stardom uncertain sense of reality and pathetic misadventures, possibly a model for the Norma Desmond character in "Sunset Boulevard." (Commenting favorably on the film and Gloria Swanson's performance as Norma Desmond, Mae added that "None of us floozies was that crazy!").
The Silent Musical
Mae Murray's acting gifts were meager, counted as excessively histrionic even by critics of the period. As a dancer; however, her stature stands among the greatest in entertainment in a category almost overlooked today, the silent movie musical. These musical photoplays were usually constructed on a framework of light romance or comedy set in exotic locales or historical settings. Elaborate decor and magnificent costumes enriched the visuals.
A memorable musical score was performed in urban movie palaces outfitted with large orchestras. Smaller venues had giant Wurlitzer organs with elaborate sound effects invented just for silent theatres, and small town piano accompanists, like their larger counterparts, took advantage of the special theater arrangements the studios provided with the reels. (Simpler versions of the sheet music were retailed for home use, adding yet another revenue stream.)
The most important component is often the dance. In virtually all of her films, Mae showcases exciting dance numbers, the most enduringly popular of which is Franz Lehar's "Merry Widow Waltz," in which Mae is accompanied by matinee idol John Gilbert. This, the most famous of her many terpsichorean extravaganzas, set off a craze that endured for decades, and even today remains a staple in dance academies around the world.
Many Hollywood legends of the silent period were superlative dancers and used the popular format of the silent musical to further their careers: Rudolf Valentino (whom Mae personally selected to appear in her early films); Jeanne Eagles; the love pairing of Greta Garbo and John Gilbert;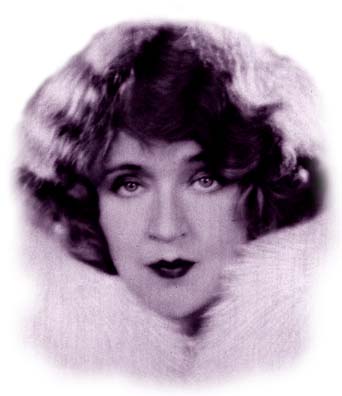 and newcomer Joan Crawford who later recounted hours spent on the MGM lot carefully studying Mae as a model for her own early dance vehicles and her need to create a unique stellar image.

Biography
Virginia-born Mae Murray was dancing in New York vaudeville when discovered by no less than Irving Berlin. He suggested to Vernon Castle, headlining for Ziegfeld, that Castle consider the gorgeous petite blonde as substitute for his under-the-weather partner.
Contemporary reporting praised the stand-in's show-stopping performance, and Mae's hoofing that night in 1906 transformed her life. She immediately became accustomed to her own celebrity, the companionship of high society, and the attention of millionaires anxious to be seen with the latest toast of Manhattan on their arms. Mae soon accepted one, briefly, as the first of various husbands and paramours.
Pre-sold for Hollywood, Mae's career opened with a series of melodramas in the mid-teens, but an image quickly developed that was far removed from that genre as the exotic, glamorous vamp became her new persona -- a gorgeous blonde seductress, one of the earliest sex goddesses of the screen.
Soon, Mae's 1918 marriage to director Robert Z. Leonard was a significant career boost, establishing a creative duo that brought consistent success for both during the next seven years, under the imprimatur of Tiffany Studios producing for MGM. The team delivered one profit-making film after another. Mae became a defining example of silent movie excess. She was promoted in all the fan-zines flaunting the lifestyle expected of cinema royalty, spending her millions on jewelry, motorcars, race horses, couture -- all the accoutrements of a 20's movie queen.
At the top of the MGM lot, Mae's demands and high-handed behavior were rapidly becoming an impediment to production, noteworthy being well-publicized outbursts on the set of "The Merry Widow" where she walked off the set calling von Stroheim a "dirty Hun." (In point of fact, Mae was herself of Austrian descent.)
Repeatedly all would be forgotten when studio bean counters tallied profits from her work, in particular those from "The Merry Widow."
However, the relentlessness of Mae's terrible judgment was inexorably rising. She divorced, Leonard, her reliable creative partner to marry bogus royalty. Mae, like Pola Negri, bottom-fished. The superstars succumbed to the seductions of two of the "marrying Mdivani" trio, whose own father admitted that he was the only Prince to ever inherit a title from his sons. As the Princess Mdivani, Murray turned over the management of her career to her prince. Virtually no successful screen work ever followed.
Mae Murray's filmography concludes with two sound failures produced by RKO. (In these, a capable voice proves equal to sound, but the films otherwise present Mae disastrously -- badly photographed low-budget productions, clearly showing her age.)

The royal marriage failed when Murray's millions were gone, and the "girl with the bee-stung lips," passed into obscurity except for occasional pathetic reports of erratic behavior and misfortune. Her biography, penned by Jane Ardmore, appeared in 1959: Mae Murray: the Self Enchanted; Image of an Era. Reportedly it sold poorly.
Mae Murray died of heart failure in 1965 at the age of 76 (based on an 1889 birthdate). She left only a trunk containing clothing and keepsakes.
Available Video
Available on VHS are an atypical non-musical, "The Mormon Maid," the masterwork "The Merry Widow," the dated programmer "Mademoiselle Midnight," "Show People" (cameo appearance only) and the two early talkies, "Bachelor Apartment" and "High Stakes," which are both light comedies. Guard against poor prints.
End note: Several of Mae's other works remain in archival collections, for the most part overseas. The names, stills and synopses available on the Net and elsewhere in the US make one wonder if some of these productions may not yet showcase the star that Murray unquestionably was.
copyright 2002 by J. Stephen Walters; all rights reserved
---
Check out the Past Feature of the Month "The Merry Widow" for more information on Mae Murray.
---
Back to "Articles and Essays" page