We might begin with the familiar lyrics from Handel's oratorio "Samson":
Let the bright Seraphim in burning row
Their loud uplifted Angel-trumpets blow.
Silent film aficionados have had much to celebrate in this year alone: the meticulous restoration and DVD/Blu-ray release of Wings (1927) and the unforeseen appearance of Lubitsch's beautiful Das Weib des Pharao (1922), to name but two. "But I'm giving pride of place to Milestone Film and Video's Rags and Riches: The Mary Pickford Collection. When Milestone co-founder Dennis Doros announced its release on Nitrateville only a few weeks ago, a Handel-esque chorus of jubilation ensued among forum members who quickly pressed the Order button, followed by a reprise chorus a few days later, when the DVD and Blu-ray sets arrived in mailboxes everywhere, testament to Milestone's professionalism and dispatch.
Here's a layout of the contents:
Disc 1. The Poor Little Rich Girl (1917). 75 mins. Director: Maurice Tourneur. Music composed and conducted by Philip Carli, performed by the Flower City Society Orchestra. Bonuses: commentary by film historian Scott Eyman and a home movie from Mary Pickford and Douglas Fairbank's legendary Hollywood home, Pickfair.
Disc 2. The Hoodlum (1919). 92 mins. Director: Sidney A. Franklin. Orchestral Score by Bonnie Ruth Janofsky, performed by the Rouse Philharmonic and conducted by Hugh Munro Neely. Bonus: Mary Pickford in Ramona (1910. 17 mins.)
Disc 3. Sparrows (1926). 90 mins. Director: William Beaudine. Score by Jeffrey Silverman, performed by the Rouse Philharmonic, conducted by Hugh Munro Neely. Restored by the Library of Congress. Bonuses: an original 1926 trailer, the "Angel" outtakes, a video interview with Mary Louise Miller's daughter Louise Paziak, and commentary by film historians Jeffrey Vance and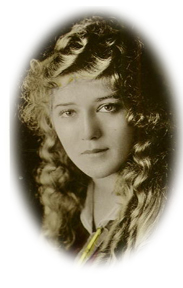 Tony Maietta.
Drawing on the best 35mm materials available from several archives, the Mary Pickford Foundation has compiled restorations of superb clarity and definition in 1080i transfers; The Poor Little Rich Girl in particular looks wonderfully sharp, far better than we might expect of any film nearing its centenary mark. Doros modestly notes that he himself might have added a bit of dust and scratch removal, but I was so caught by the immediacy of the transfers that I quickly brushed aside small tokens of age and wear; patina has its own beauty, after all. The three features are graced with handsome tinting, seldom calling attention to itself but undergirding the mood of every scene.
The director King Vidor once noted that music is fifty percent of the silent film experience, and certainly one of the strengths of this set is found in the high standard of scoring. (You'll know what I mean if I allow that we all can think of certain DVD releases with scores that did not respect the films.) Philip Carli and Jeffrey Silverman, both familiar to and applauded by silent connoisseurs, deliver some of their finest work here; listen to how Carli's scoring complements Gwendolyn's extended nightmare in The Poor Little Rich Girl and how Silverman sustains a tight thread of tension that whisks along the final chase in Sparrows. I was not familiar with Bonnie Ruth Janofsky's previous work, but her score for The Hoodlum, admittedly the least of the three features (charming and vivacious in its own right but not an altogether congruent whole), carries the film.
The extras alone are worth the modest price of the set. Film historians Eyman, Vance, and Maietta provide balanced and scholarly commentaries, their respect for Pickford's artistic achievements most evident. The interview with the adorable Mary Louise Miller's daughter is a sweet surprise, as are the "angel" outtakes that may have served as an alternative to the Christ-gathering-his-lamb sequence in Sparrows (one of the most touching scenes in all of silent film). You've not lived if you haven't seen the home movie from Pickfair: at one point Charlie Chaplin, clad in Pickford's dress from Pollyanna(!), cavorts with a globe, prefiguring his lyrical ballet in The Great Dictator. He's an absolute scream.
But there's an especially valuable option on this set in a recently taped series of child-friendly introductions and follow-ups to the films. Collectors who have watched silents for decades may find them too cutesy and calculated, but I'm all for them. We know the Pickfords carry their own enchantment, drawing as they do on youthful flights of imagination, whimsy, spunk, and sensitivity. But how can they not seem antediluvian to a generation weaned only on Pokemon and Harry Potter? These intros and outros, setting up both historical and technical contextualization, lift a scrim and spotlight the timelessness of the stories and of Pickford's character while fostering an appreciation for the pioneers of the grand tradition of filmmaking.
If you're not familiar with the films themselves, you can read webmaster Tim's review of an earlier edition of Sparrows HERE, and I hope to post a review of The Poor Little Rich Girl within the next few months. If you're not familiar with Pickford: no offense, but how do you live with yourself? Knowledge most assuredly brings love. We grin at Fairbanks's dash and brio, and we laugh at and cry for the Little Tramp, but to watch the diminutive, golden-haired Pickford -- surprisingly tough but infinitely tender, graced with the most enchanting smile in the history of motion pictures -- is to capitulate without protest or cynicism and to understand why the nation embraced her as its Sweetheart. In his extended love letter to Pickford back in 1962, Edward Wagenknecht in Movies in the Age of Innocence wistfully noted that "Whatever history makes of her, and whatever of her films may survive, no other generation will ever have her as we had her." Perhaps not. But with this superb Milestone set, we're getting close.
---

copyright 2012 by Dean Thompson. All rights reserved.
Chaplin, Pickford, "silent film" "silent movies" 1920's, twenties, Chaney, "silent era", "silent movies on DVD" , Keaton, "Harold Lloyd", Fairbanks