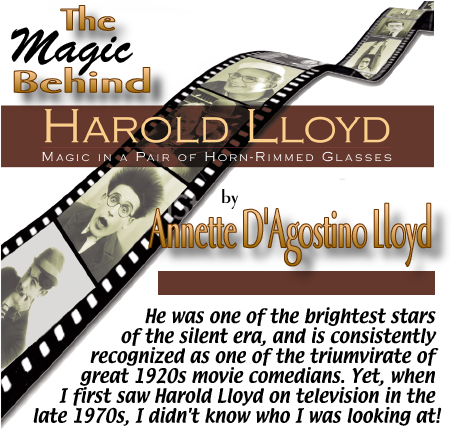 I knew that I liked what I saw, but hadn't a clue who he was. My parents didn't know either. My grandparents, however, knew exactly who Harold Lloyd was, and still adored him. They were impressed that their granddaughter, just in high school, could recognize his greatness and appreciated what she saw. Oh, that I did! So much so that I spent the next 30 years (with more to come) learning, absorbing, and sharing Harold Lloyd with the world.
In the first few years following my introduction to the image on the screen, and determined to learn whatever I could about him, I bought each and every Lloyd book I could get my hands on. The first of these, An American Comedy, was Lloyd's 1928 autobiography, and a fabulous read. However, after that, I was increasingly both puzzled and disappointed by the subsequent book efforts that were available. The pictures were nice, sure - but I never got the sense that the authors cared about the man they were chronicling, or the films that were highlighted. I was so dissatisfied that, in 1992, I decided to write a book of my own.
This literary rookie did get her book contract, received the day after Thanksgiving, 1992: I cried myself to sleep that night, from sheer terror and bewilderment. What have I gotten myself into?!?
What I got myself into was a magnificent and wondrous world, filled with new discoveries, and exceptional friendships that last and endure to this day. I have always said that I am grateful to Harold Lloyd: what I am most appreciative for, to be sure, is the joy he has heaped upon my life, both in terms of his films and his example, as well as the bevy of comrades and associates I have been blessed with along the way.
I tried, very hard, to ignore all previous books on Lloyd when I undertook my first book on him. This was done for many reasons, but mostly because I didn't want to be tainted by someone else's writing, be it positive or negative. I wanted to make my own discoveries and reach my own conclusions. Where I learned such gumption, I don't know - but I'm glad I did.
In the 15-plus years since my first book, Harold Lloyd: A Bio-Bibliography (Greenwood Press, 1994), was released, I have found that, even though I had that first book completed, the work was far from over. My next two books, indexing The Moving Picture World trade journal, gave me a tremendous opportunity - to seek out and photocopy every article on Lloyd within the pages of this wonderful magazine (which saw life from 1907-1927). The most eye-opening aspect of this work was also quite frightening: my 1994 filmography, I learned, was fraught with errors!
In the respect of the filmography, I bowed to the research that came before me, and essentially repeated the perpetuated mistakes in decades' worth of lists of Lloyd's films. I later found titles, reviewed in MPW and crediting Lloyd, that were not in my list of his work. And, after I started making my day trips to the Library of Congress, to scour copyright entries and miles of microfilm, I was able to not only add new (and correct) films to the list, but also take out others that didn't belong. I found films that Lloyd did for Edison, Universal, and Keystone (coming before his work with Hal Roach), and discovered that a bunch of films long identified as the first of the Lonesome Luke series were, in reality, made by another company.
Now what do I do? I have a book out, and it's already obsolete! And, most importantly, it has incorrect information in it.
I satisfied some of my hunger to spread the word on Lloyd by starting a "fan club" of sorts, which I called H.E.L.L.O.! (short for Harold, Everyman, Lloyd Lives On!), and putting out a quarterly newsletter, The Lloyd Herald. In it, I was able to share my new discoveries with fans who cared enough about Lloyd to join. All 250 of them; not enough, I surmised, but a good start. I single-handedly kept the club afloat for 4 years. Then something happened.
Back in 1995, I broke new ground by starting the world's first website on Harold Lloyd at www.haroldlloyd.us (the URL has changed a couple of times over the years, but the content remains consistent). I was thrilled by the reception it got: with my newest toy, e-mail, I was able to communicate, easily and cheaply, with fans the world over. One fan who wrote to me to let me know how much he liked my site was a fan named Scott Lloyd (no relation). At the time, Scott worked at U.S.C. where, coincidentally, the Hal Roach Collection was housed - when I needed to go there to scour the Roach Studio ledgers and papers, I invited Scott to come meet with me. Thus began a friendship that grew into marriage, in 1999 (at the Wee Kirk o' the Heather Chapel at Forest Lawn Memorial Park, Glendale, CA, where Lloyd and family are entombed).
Now married, I had to get a "real job." This I got at Hollywood Forever Cemetery where I spent five happy years as the Production Coordinator and Celebrity Biographer. The "job thing" ate into my writing time, significantly. However, in 2002, I decided to multi-task a spell. I proposed a new book to McFarland & Company: "The Films of Harold Lloyd." The company President, Robert Franklin, however, upped the ante, instead suggesting an encyclopedic study of the man, his films, his life, and his times. Sure, I thought, why not?
So I spent the balance of 2002 and most of 2003 working on The Harold Lloyd Encyclopedia at night, after getting home from my day job. Oh, and I was also commissioned to write a tour guide book for Hollywood Forever, which I researched and composed on my off-hours at work. Oh, and I found out, on Mother's Day, that I was expecting a baby. Yep. That is multi-tasking.
Writing the Encyclopedia, and receiving very gratifying response to it, was a thrill for me. I was really excited, because my "just the facts, ma'am" alphabetical layout made information easy to find, and its entries all came from my conceptualizing what the fans needed and wanted to know. I felt that the facts were all there, and I was satisfied.
Until 2008: Fast forward to Life with the Lloyds, Insanity Edition. Our baby boy, christened Matthew Scott Lloyd, was now in preschool. I had unfortunately been laid off from Hollywood Forever in 2005, and was now freelancing in various capacities (including a sensational gig as a consultant and contributor to the Harold Lloyd Comedy Collection DVD box set). We were living in the San Fernando Valley of Los Angeles, near the beloved downtown where Harold taped so many of his best films. Hubby Scott was recruited for a marvelous job opportunity in Rhode Island - we decided that a move made sense for our family, for a number of reasons - and after five months apart, the three Lloyds settled into our 1945 Colonial in a great neighborhood in a great town.
Within the first week in our new home, I got an idea for of all things a new book on Harold Lloyd. Why, you might ask? (I know you're asking, because I asked it of myself!) Simple. I got to thinking, amidst opening boxes and putting up curtains, that despite all the work I had done to date, I still hadn't been able to sufficiently share Harold Lloyd, the man, with the world. I own all his oral histories; I have every book done on him, including one by him; I hold every written or spoken interview he ever gave. I know him (or at least I feel I do). But, I still haven't been able to relay him into a book, at least to my satisfaction. I wanted to share something that would, somehow, allow the reader to feel, at the end, that they knew him better. And, I hit upon what I construed to be the magic idea, by way of his 1955 UCLA oral history.
This lengthy interview, conducted by Professor Arthur B. Freedman, was one in a series of oral histories with other film luminaries. The series title intrigued me: "Turning Point." While I loved the hint that the title gave, I was disappointed that Freedman didn't ask the one question of Lloyd that I wanted asked: "What do you feel are the turning points of your life?" That always ate at me. It drove me, in 1996, to write an article for my website entitled, "Harold Lloyd: His Life's Turning Points." I listed nine things that happened to him that changed him; altered his methods; ultimately defined his life. Once I started to think about it more - over boxes and window treatments - I reckoned that this might be the book I've always wanted to do about Lloyd. I would propose an expansion of my exploration into defining the turning points of his life and career.
Once I had the house in proper working order, and my home office all set up and operational, I undertook the fun yet arduous process of transcribing every one of Lloyd's spoken interviews. I sat at night, with a pad and pencil, and scribbled potential events that could be turning points. I found that his descriptions, coupled with my scribblings, made for gold: not only was I able to clearly define over 30 moments as true turning points, but I was determined that the transcriptions would allow Lloyd, himself, to tell the stories alongside me. I was enormously excited about the project, and sought out the proper publisher for this "masterpiece."
I had just two "musts" for this book: it had to be paperback, and it had to be affordable. I wanted this book to get out to as many fans as wanted it. I didn't want the price to be prohibitive. And, in addition, my hopes were that I'd find a publisher who really cared about the work. This I found in BearManor Media, and its leader, Ben Ohmart. This is a publishing empire humble in size, but mighty in scope - publishing memoirs and studies that might not have the biggest audiences, but might have the most enthusiastic ones. The support and encouragement I got from Ben was tremendous he even gave me a book designer, Valerie Thompson, who is a Lloyd fan. Together, we worked hand in hand, and collaborated on all aspects of design and layout. I even had the opportunity to design my own front and back covers! Most importantly, I had a product that the publisher believed in and would make available at a very reasonable price.
The result is one that I am proud of and thrilled to share with Lloyd fans the world over. I said it in my book, and at the risk of being repetitive, I'll share it again: I owe Harold Lloyd every energy I have given him, and more. Finding him was one of the most glorious turning points in my life.
Copyright 2009 by Annette D'Agostino Lloyd. All rights reserved.
---
Harold Lloyd: Magic in a Pair of Horn-Rimmed Glasses

includes:

o A "crash course" in Harold Lloyd 101
o A Facts in Summary and Chronology of his life and times
o A complete guide to quote sources
o Extensive analysis of 34 turning points in Lloyd's career and life
o A Complete Chronological Filmography, Bibliography and Index

Trade Paperback, 412 pages (printed on alkaline paper)
ISBN: 1-59393-332-0


Available for $24.95 at Amazon.com and at http://bearmanormedia.bizland.com/
Return to the "Articles and Essays" page