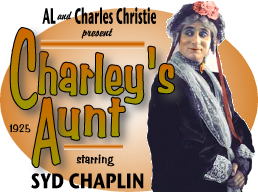 Produced by Christie Film Co.
Directed by Al Christie
Cast: Syd Chaplin (Sir Fancourt "Babbs" Babberly), Ethel Shannon (Ela Delahay), James E. Page (Spettigue), Lucien Littlefield (Brasset), Alec B. Francis (Mr. Delahay), Phillips Smalley (Sir Francis Chesney), Eulalie Jensen (Donna Lucia D'Alvadorez), David James (Jack Chesney), Jimmy Harrison (Charley Wykeham), Mary Akin (Amy), Priscilla Bonner (Kitty)
COMMENTARY
An old, familiar story from a stage play
"Charley's Aunt" was a British stage production that first appeared in 1892. It had a successful run on Broadway in 1893 (1) and was standard fare for theatres from that time forward. The first notable screen version was a short in 1915 with Lynne Carver and Oliver Hardy. Chaplin's version was the first feature filming of the story.
Stage productions taken to film quite often come across as just that - "stagey" - and don't have the visual appeal of other films. And, as one would expect from a Christie Brothers film, it's all done with indoor sets - even the university courtyard scenes. But don't get me wrong about the Christie Brothers. They have left us with some of the best comedy to be laid on film, but Christie, Hal Roach or Mack Sennett were never known for their big budgets. Nevertheless, Chaplin's excellent performance and the engaging comedy make the production the delightful entertainment that it is.
The main character in the story (Chaplin) is the wealthy Lord Fancourt Babberly, otherwise known as "Babbs," who is in love with Ela Delahay. The story begins in France with Ela's concern over her father's constant losing at the gambling table - which results in him losing everything they have. Babbs sells Delahay a fake lottery ticket, provides the winnings, and pays a guy to go to Delahay's home and present him with this supposed "windfall." However, when Ela sees Babbs selling her father a lottery ticket, she assumes he is encouraging his gambling and tells him she never wants to see him again. After Babbs returns to the University in England, Ela finds out the truth and regrets turning Babbs away.
Lots going on
Good stories have subplots that tie into the main plot, and, that's the case here, as well. Babbs' classmates, Jack and Charley, are in love with Amy and Kitty and want to propose to them. However, Amy's uncle, Spettigue, who is also Kitty's guardian, stands to lose a lot of money if the girls marry. The guys plan to propose when Jack's wealthy aunt comes (there must be a chaperone present). They've got to hurry, too, because Amy's uncle is taking the girls away to Scotland the next day. Oh, there's one more character - Jack's dad, Sir Francis Chesney. He's lost all his fortune, too, so the arrival of a rich widow (Charley's aunt) is certainly fortuitous - so dad heads home to get all spruced up to meet the aunt.
But wait, there's a problem! Charley's aunt missed the train and won't be there that night! Now what will they do? The girls will be gone the next day. Well, it just so happens that Babbs is trying on an outfit for a campus performance - you guessed it! He's an old lady! So who's the obvious choice to be impersonating Charley's Aunt for the evening!! Need we say that the apartment is soon filled with Jack, Charley, Babb's impersonating the aunt, Amy, Kitty, Spettigue, Sir Francis (the two men are vying for the rich widow's attention - Babbs in drag, that is!) - and then, not only does the real aunt show up, so does Ela! Great fun!
Chaplin puts it over
It's a good story, for sure, but Syd Chaplin puts it over with his fine performance. Chaplin seems to get lost in the shadow of his more famous brother - and it's not that Charlie Chaplin wasn't the superior talent and creative genius - however, Syd Chaplin can stand on his own talent. His legacy should not be based on the Gussle series he did for Keystone, which was probably as good as most of the Keystone output - but, instead, historians should take a fresh look at films such as "Charley's Aunt" and the very enjoyable "The Better 'Ole" that he made the next year.
To Chaplin's credit, he makes a very dapper Lord Fancourt Babberly and is able to put across romantic scenes with pretty Ethel Shannon as Ela - with some comedy added, of course. His impersonation of the elderly aunt is impeccable (Charlie Chaplin did pretty darned good female impersonations on more than one occasion, too!). When the girls arrive, his constant waving of a fan and batting his eyes are humorous in themselves, but Chaplin's ability to revert to the feminine mannerisms and then, when the girls aren't looking, grimacing and punching Charley for correcting some of his actions, is right on target. For example, the girls bring his flowers. "What do I do with these nose dusters?" he asks Charley to the side. Charley tells him to put them in the dress, so he deposits them in a pocket.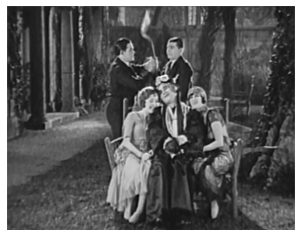 Amy comes over and tells him, "We are already quite in love with you." Smiling, he turns to Charley, "She loves me! I like this!" Much to Charley's annoyance, he then kisses Amy on the lips (very common for women to kiss this way in those days). Of course Charley tugs at Babbs' arm, but Babbs proceeds to kiss her lightly again and press his cheek against hers. Then he looks over at Kitty who is with Jack. Certainly, he can't leave her out. He takes her in his arms, kisses her - and Jack has a murderous scowl on his face. While Kitty is in his arms, he socks Jack in the jaw.
Filled with great gags
The film is filled with so many great gags. For example, when the grouchy old uncle, Spettigue, arrives to find the girls, Babbs is there alone. He gives the old man a hard time threatening to knock his hat off with a brick if he doesn't remove it and also also accuses him of imbibing. Later, when the uncle puts the hat back on, Babbs throws a perfect pitch with a book and knocks the hat off. Offering to pick it up, he "accidentally" kicks it each time he bends to grab it until it's outside the door. When the uncle goes to retrieve the hat, Babbs closes the door on him.
Later, with everyone in the room, Spettigue and Sir Francis are arguing over who will pull out the chair for Charley's aunt to sit at the table. The expected happens - Babbs goes to sit down, and there's not chair because the men are still tugging at it. What comes next is not expected, though. Babbs grabs the table to pull himself up, and the table separates in the middle, and the entire dinner crashes to the floor.
Of course complications increase when the real aunt arrives, but she plays along, and Babbs continues his ruse not realizing that she knows what's going on. That evening he is sitting with Charley's aunt, Amy, Kitty and Ela. Ela, still not realizing this is Babbs, puts her leg up on a stool, pulls up her skirt and says, "Are you ever bothered with runs in your stockings, Aunty?" At that, the Charley's aunt, Kitty and Amy all pull up their dresses obviously with their own stocking stories - of course, Babbs is wide-eyed! Getting more and more nervous, he literally runs from the room.
The scene where the aunt catches Babbs smoking a cigar and the smoke rises from his pocket where he thinks he has succeeded in hiding it from her is delightful. Later, when Spettigue comes in, the cigar begins to burn Babbs' leg, so he jerks it out quickly and it lands on the sofa. Babbs and the Spettigue sit down, and Spettigue, who is sitting on the lit cigar says, "Ah, my little tube rose. I am afire with love! I am afire with -" and, of course, that's when he leaps from the sofa!
All of this can't come to a conclusion, though, until the boys' ultimate goal is accomplished - and that is for Babbs to use his "feminine" charms on the old uncle to get him to sign permission for the girls to marry. He accomplishes this by telling Spettigue they can never marry unless the girls are able to marry the boys.
Throughout the film, Babbs continually introduces himself as "Charley's aunt from Brazil - where the nuts come from." When Spettigue signs the permission and thinks he has won the hand of "Charley's aunt," they walk arm in arm across the room filled with all the others - then Babbs' skirt falls off revealing his long pants. All are shocked except Sir Francis who walks up to Spettigue and smugly says, "You're welcome to the nut from Brazil."
Of course, this opens the door for Ela and Babbs to get back together, and all ends well.
All the cast is excellent!
All of the cast does an excellent job. Two unknowns - David James and Jimmy Harrison do a splendid job or portraying lovesick college boys. James E. Page Uncle Spettigue is well-cast as the crotchety, sputtering old geezer who is, at first, the bad guy for running the boys off, but then the buffoon as he awkwardly "courts" Babbs as the wealthy aunt. Phillips Smalley was a veteran of films who was married to famous female director Lois Weber. His portrayal of the dignified, yet broke, Sir Francis is perfect casting. Eulalie
Jensen is lovely as Donna Lucia D'Alvadorez and charming as she goes along with the ruse and never letting on that she is the real aunt. Although not a major star, thank goodness we can see the beautiful Priscilla Bonner in several surviving films today. She is Kitty, and Mary Akin, a relative unknown, does a fine job as Amy. Lucien Littlefield is in the background doing his usual butler/valet role - and he always does it well. But, as noted, Chaplin is the star and is the one who truly carries the film and makes it the delight to watch that it is.
Christie films are known for their snappy titles, and this one's no exception. For example, when the girls first arrive, Charley admonishes Babbs to "Keep your voice up and your skirts down!" Off to the side, Babbs later asks him, "What is my name?" Charley says, "Donna Lucia D'Alvadorez," to which Babbs laughs. "What am I, Irish?" "You're a wealthy widow from Brazil!" Charley tells him. "With that name, I thought I was a cigar - or a bullfighter!"
The only weak sequence in the film is a prolonged chase - Spettigue running through the courtyard and Babbs flirtatiously avoiding capture in a variety of antics. No doubt, this is the sequence referenced by the Picture Play reviewer below.
Overall, the critics liked "Charley's Aunt" and so did the public. Picture Play magazine said, "It seemed to me but mildly funny, but the two little boys who went with me are laughing yet at the very memory of Syd hopping about the garden with his skirt flying and his trousers showing. The picture is rough and rowdy; the gags didn't seem to be in the least original. However, it has been done in capable slapstick style, with snappy titles and lots of speed. Syd Chaplin is funny and he is welcome to come again as often as he likes."
The New York Times' Mordaunt Hall seemed to take a greater liking to the film. "It is a splendid piece of work, the modern touches serving as oil for any creking joints the old playmight have had. The proucers deserve great praise for having filmed this farce without the inclusion of a single coarse note. . .This film will make the whole country raor with laughter and renew the fame of the old farce." (3)
Harrison's Reports agreed. "A beter farce comedy has not been seen in years It ought to bring the house down, particularly if every seat should happen to be full . . . 'Charley's Aunt' should appeal universally." (4)
The film was a success with audiences, as well as critics. In an unpublished study by Jame Mark Purcell, available figures and other data (info from exhibitors' reports, for example) were compiled to determine the most popular pictures of 1922-1927. For 1925, "Charley's Aunt" tied for sixth spot with "The Lost World." (5)
The version reviewed here is a very nice print from Grapevine Video which runs 76 minutes and boasts a very nice original score by organist David Knudtson.
References
1. "Charley's Aunt." Wikipedia.
2. "Charley's Aunt" review. Picture Play Magazine. May, 1925.
3. "Charley's Aunt" review. New York Times. February 9, 1925.
4. "Charley's Aunt" review. Harrison's Reports. January 31, 1925.
5. Koszarski, Richard. An Evening's Entertainment: The Age of the Silent Feature Picture, 1915-1928. University of California Press. 1990.


Copyright 2014 by Tim Lussier. All rights reserved