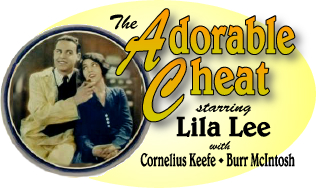 Produced by Chesterfield Pictures
Directed by Burton King
Released August 15, 1928
Cast: Lila Lee (Marian Dorsey), Cornelius Keefe (George Mason), Burr McIntosh (Cyrus Dorsey), Reginald Sheffield (Will Dorsey), Gladden James (Howard Carter), Harry Allen ('Dad' Mason), Alice Knowland (Mrs. Mason), Virginia Lee (Roberta Arnold)
Love among the pots and pans
Marian Dorsey goes to work in the shipping department of her father's enamelware business when Dad expresses frustration at his lazy son's disinterest in continuing the family's pots
and pans business. Without Dad's knowledge and under an assumed last name, Marian works auditing the books and soon falls in love with the young, handsome and ambitious chief shipping clerk, George Mason. A weekend party is being planned at the Dorsey home, and when a friend finds Marian at her place of work, she invites George to attend. To continue her ruse of being just a working girl and not the daughter of the wealthy Cyrus Dorsey, Marian has her friend pose as Dorsey's daughter, which allows Marian and George to attend as guests. The weekend ends up being one of mystery and misunderstandings when Carver, a friend of Marian's brother, decides to plant stolen money on George and discredit him in the eyes of Marian and her father.
Another Mary Pickford
Discovered by Jesse Lasky, Lila Lee made her screen debut in 1918 for Paramount Pictures. Lasky had planned to make her another Mary Pickford; however, after eight films and a loss of over $1 million, he allowed her to be used by whatever director wanted her. (1). Her career was a scattering of first-class pictures for major studios and poverty row studio employment throughout the silent era. After Lasky gave up on her, she was cast at Tweeney, the scullery maid who is in love with Thomas Meighan's Crichton in Cecil B. DeMille's "Male and Female" (1919). She played opposite Rudolph Valentino in "Blood and Sand" (1922) and several other Paramount pictures throughout the twenties while also working for studios such as Regal, PDC, Chadwick and Chesterfield. Because she was an accomplished actress with a good voice, she moved to talkies easily and starred in eight pictures in 1929 alone. However, the stress of Hollywood took its toll on her, and she had a nervous breakdown. Married to actor/director James Kirkwood (22 years her senior) since 1923, he divorced her on grounds of desertion while she was recovering in an Arizona sanitarium. Although Kirkwood got custody of their son, young Kirkwood, Jr., adored his mother and continued to spend as much time with her as possible up until her death in 1973. She made almost 30 pictures in the next seven years. Lee married again in 1934, a union that lasted only six months. Another marriage in the 1940's did not last long either.
Like most of the silent stars' film libraries, most of Lila Lee's output is no longer around. However, "The Adorable Cheat" is a beautiful example of the fine work of this lovely, talented actress - and, thankfully, available from Grapevine Video on DVD for the home market. It's easy to see from Lee's performance in this film why Lasky felt he could bring the same level of adoration and popularity that Pickford enjoyed to Lee. Lee's performances were never intended to mimic Pickford's. Lee is certainly more restrained in her acting, and, of course, she did not attempt the child roles as Pickford so adeptly portrayed. Lee isn't given to slapstick situations, either, such as Pickford's pots and pans routine in the department store in "My Best Girl" made the same year. Yet, the charm is there, the loveliness, the expressiveness and the talent.
There is one scene that may bring to mind the scene in Pickford's "My Best Girl" where she and Buddy Rogers are having lunch in the large shipping crate. Although not as ingenious a location nor the implication of the intimacy, Lee and her handsome co-star, Cornelius Keefe, share a lunch sitting side by side on a table in the shipping office - he eating an apple, and she eating chips from a bag. She turns to stare at him while he chomps away at the apple. When he realizes she's watching him, they both look at each other and have a good laugh. She then takes a chip from the bag and offers it to him. He declines. She insists pushing the chip closer and closer to his mouth until he finally takes it. He then pulls a sandwich from a bag, offers it to her, which, she, of course, declines. He pushes it closer and closer to her until she finally takes a bite. The two laugh over each of these instances, and the scenes work well to show us how much the two are enjoying being together at work and how their relationship is blossoming.
Perfect casting
Keefe shines in this picture, too. Coming onto the movie scene in 1924, he made 20 pictures in the next five years. Although never a major star, Keefe is somewhat reminiscent of Buddy Rogers with his boyish good looks and exuberance. He brings a sparkle to George Mason's character, and we find his continued grandiloquence about one day being made general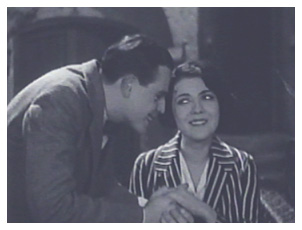 manager by Cyrus Dorsey engaging.
Gladden James, as Howard Carver, provides a good contrast to Keefe. Not the looks of a leading man, but perfect for the "cad" part he plays in "The Adorable Cheat." He is at his nastiest and Keefe at his most sympathetic when Carver invites George's parents to the weekend party without George's knowledge. Carter's intent is to embarrass George with his humble parents who are clueless that they are being used. All of the young people there find this most amusing with several of the young girls flirting with George's father, in his own daffy way, thoroughly enjoying the attention of the young girls. Rather than respond angrily or try to avoid any connection with these two very plain people, George, instead, welcomes and embraces them. However, realizing Carver's intent, he suggests they all go home - a classy and subtle way to handle this awkward predicament. It's a heart-rending sequence in the movie that underscores our dislike for Carver and emphasizes his unscrupulous character while, at the same time, increasing our admiration for how well George responded to and handled the situation. Both Keefe and James are to be commended for fine performances. As the Variety reviewer noted, "Keefe . . . makes a good impression," and "Gladden James . . . does a cad with his accustomed finesse and nastiness." (2)
Although he doesn't occupy a lot of screen time, the blustery Burr McIntosh is a welcome, familiar face as Marian's father. McIntosh will be best remembered as Squire Bartlett in D.W. Griffith's classic "Way Down East" (1920) - cruelly sending Lillian Gish's character out into a blizzard after learning she has had a baby out of wedlock. It's a rarity to see his character smile - but his daughter, we are told, is the only one who can bring about this change in demeanor, and the interplay between the father and daughter is heart-warming.
Reginald Sheffield, as Marian's brother, Will, provides an acceptable characterization - admittedly with little depth provided for this part. He's the rebellious youth who wants no part of the boring pots and pans business - "there's no romance in that." He also gamble with his friends, losing money he doesn't have - so that's why he ends up robbing his father's safe. The spoiled, rich kid who "learns his lesson" is rather cliche; however, that's the part that has been given to Sheffield. Sheffield was active in films and TV right up until his death in 1957, with over 130 films/TV shows to his credit. His greatest claim to fame, however, is being the father of Johnny Sheffield who was "Boy" in the Johnny Weismuller Tarzan movies and later Bomba, the Jungle Boy in the 1940's.
A web of robbery, deceit and misunderstandings
The final 20 minutes of the film will keep the viewer glued to the screen as the weekend getaway turns into a web of robbery, deceit and misunderstandings. Without giving away the
ending, here are a few of the reasons the viewer will be drawn into the final third of the film: Brother Will is caught robbing his own father's safe by George. Carver sees this and finds that he has access to the safe now. Carver expresses his love for Marian although she resists his overtures. In an attempt to embarrass George and discredit him in Marian's eyes, Carver brings in George's parents. George learns that the Marian "Collins" who has been his co-worker is actually Marian Dorsey, daughter of the company's owner. George feels she has deceived him as a lark, and her feelings for him were not genuine. Carver plants a stolen necklace on George, and he is then accused of robbing the safe. Even though George knows Will committed the robbery, he refuses to say anything thereby confirming his guilt to everyone - including Marian and her father.
The story - particularly for a film from a low-budget studio - is excellent. As Variety noted, "The first point of favor of 'The Adorable Cheat' is the story, well-knit and plausible." (3) Of course, one wouldn't expect this film to make anyone's top 100 list, but, nonetheless, it's good entertainment, a credit to the pen of Arthur Hoerl, who, though virtually unknown today, wrote for 150 films between the silent era and his death in1968. (4)
Well made - but on a shoestring budget
The Variety reviewer notes that the film was reportedly filmed in 10 days for around $10,000 - incredible for even this period in movie-making. (5) However, don't be fooled - the look of the film belies any such parsimony. The shipping clerk's office is sparse, as it should be, but the Dorsey household is sumptuous and very appropriate to the wealth they are portrayed as having in the film. Certainly, cost savings are realized in this film because of the minimal sets that are required - and no outdoor filming took place, but that in no way takes away from the enjoyment as all scenes are appropriately adorned.
But back to our original praise for this film - the appearance of Lila Lee as the star. Variety said, "Lila Lee is starred, and while the 'Cuddles' kid has passed from public focus of late, she looks extremely attractive here and will be liked." (6) ("Cuddles" was the name vaudeville producer Gus Edwards gave Lila Lee when she was performing on the stage prior to her entry into the movies.) Her presence, charm, perkiness, coyness, expressive yet restrained performance, and dark beauty are a delight to watch. She and Keefe make a perfect pair, playing well off each other. The inclusion of James as the villain, the pairing of the two lovers from two different social classes (nothing original about this, but presented well here), and the very neatly written climax with misunderstandings, stolen money, deceit and stubborn pride - all provide for a great 54 minutes of entertainment.
By the way, one may assume from the length that this film may have missing scenes, but the American Film Institute Catalog lists the length as 5,000-5,400 feet - right on target for the time on Grapevine's DVD. By the way, this DVD also has another well-done original organ score by David Knudtson - adding much to the enjoyment of the film. Kudos to Grapevine.
SOURCES
1. Holland, Larry Lee. "Lila Lee." Films in Review. November 1984.
2. "The Adorable Cheat" review. Variety. April 18, 1928.
3. Ibid.
4. "Arthur Hoerl." www.wikipedia.com
5. Variety.
6. Ibid.

Copyright 2012 by Tim Lussier. All rights reserved