Directed by Alexandre Volkoff
Produced by Albatros Pictures
Released 1921-23
Cast: Ivan Mousjoukin (Julien Villandrit), Hélène Darly (Régine de Bettigny), Charles Vanel (Henri Corradin), Christiane (Jane Munier)
Étonnement Sans Fin, Sans Fin Plaisir: La Maison du Mystère (1921-1923)
By Dean Thompson
Full disclaimer: La Maison du Mystère is a serial with ten chapters, from "The Treacherous Friend" to "The Triumph of Love." It is an unalloyed delight; it is what movies are all about. Here are eight reasons why you should purchase it as soon as possible.
*The Booklet. With each of its releases, Flicker Alley has long been providing the finest DVD liner notes in the industry. Here, we're graced with a twelve-page booklet containing biographical
material on the cast, director, designer, and cinematographer; notes on the disappearance, rediscovery, and restoration of the film; and best of all, "The Art Film as Serial: La Maison du Mystère," an informative and often eloquent essay by film historian Lenny Borger with David Robinson. If you appreciate erudite film scholarship devoid of jargon, you'll find the essay a wonderful appetizer to the film. If, like me, you're an English professor in the midst of grading freshman exams with howlers appertaining thereto (Sample: "In Death of a Salesman, Willy Loman cheats on his wife and thus breaks their sacred marriage vowels"), Borger's prose will waft you into the empyrean.
*Spring Weather. What better way to pass a weekend of pouring rain than to put your feet up and enjoy all ten chapters of La Maison du Mystère? For that matter, what better reason to fix a pitcher of spiked lemonade during the dog days of summer, or put off snowplowing during winter? I had planned to watch Maison over the course of a week. Well: after the first chapter I said, "All right, one more," a line repeated eight times during the next six hours. And the next day, I watched it all over again. Excellence, true excellence, is addictive.
*Echoes. Based on a phenomenally popular 1921 novel by Jules Mary, the plot of La Maison du Mystère spans several decades. Julien Villandrit (Ivan Mosjoukine) and Henri Corradin (Charles Vanel) are in love with the same woman, Régine de Bettigny (Hélène Darly). Villandrit and Régine marry and have a daughter, Christiane. Falsely accused of murder, Villandrit endures years of imprisonment before he escapes and, following a prolonged chase, is presumed dead. Returning home in disguise (several, actually), he seeks both justice and reunion. There's more than a dash of The Count of Monte Cristo in this sweeping epic of love and revenge; a dash, too, of Othello as Corradin plants seeds of jealousy in Villandrit's mind early on about Marjory, who also appears to vie for Régine's affections. Villandrit's feats of athleticism throughout the serial evoke the great Douglas Fairbanks in their dash. One overhead shot of police emerging from dark woods and circling Villandrit seems to prefigure, uncannily, a similar shot of Peter Lorre's entrapment by police in Fritz Lang's M. But the most poignant echo may come during a circus sequence, when Villandrit, disguised in clown makeup, recognizes his long-unseen wife and daughter in the audience. The hurt in his eyes in extended close-up is aching and makes one think of The Beloved Rogue, in which the François Villon of John Barrymore (whom Mosjoukine deeply admired), similarly disguised, weeps as he is banished from Paris on All Fools Day. I hasten to add that there is nothing innately derivative about La Maison du Mystère, but these echoes do add to the film's resonance and texture.
*Thrills. There's a train chase, there's a human bridge stretching across a ravine, there's an astonishing sustained shot of Mosjoukine rappelling down the side of a towering chateau, and much more. One grins during these sequences, partly because they're so well done, and partly because they seem almost incongruous in a serial that otherwise is so unlike a serial. According to Borger and Robinson,
Despite the undoubted importance of serials to the French cinema economy in the early 1920s,
everyone, even those in the industry, looked down upon the form. Louis Delluc, the influential
critic, theorist, and filmmaker, was a vehement detractor . . . yet even he made an exception
in the case of La Maison du Mystère. Indeed, but for the lingering association with the
serial name, it might well take its place as one of the classic silent films for its excellence
in every respect: structure, performance, and constantly astonishing visual textures. The
critics' jaws dropped at encountering a serial boasting such pictorial invention, the natural
ease of mixed Franco-Russian cast, and the exemplary juxtaposition of serial thrills
and genuine emotion. They were now almost fulsome in their praise, while Delluc
himself grudgingly conceded: "La Maison du Mystère is a serial. They are a necessity.
So be it. This one is intelligent, sober, frank, genuinely human."
*Humanity. For all that they quicken the pulse, however, the thrill moments are not what one carries away from La Maison du Mystère. Most of the episodes wind down not with a bang, but with what William Faulkner termed a "dying fall," a gentle denouement underscoring the human immediacy of relationships central to the film. Every episode is warmed to life by sequences that charm or clutch the heart. One laughs with delight as Villandrit, in the giddy throes of first love, bounces about like a puppy. Much later, one's heart breaks as Villandrit, a fugitive in disguise, acknowledges his identity to his daughter before they tearfully embrace. Their reunion is as moving as anything ever filmed by Chaplin, another actor whom Mosjoukine idolized. Thanks to the clarity of the restoration done by the Cinémathèque Française on this film, we can discern in this scene that the tears and trembling lips of Mosjoukine and Simone Genevois, who plays his daughter, are real. (Here, and throughout all of La Maison du Mystère, composer Neil Brand's piano provides a beautiful and responsive complement.) One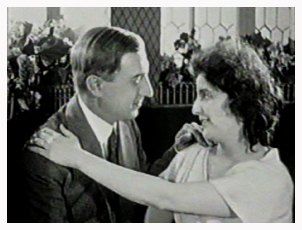 running thread throughout Maison is the understated closeness between Mosjoukine and Hélène Darly, who plays Régine. They may be the most fully realized married couple in silent film. Watch for the trial scene, when Régine signals Villandrit to straighten his tie; most of all, watch as they come together near the end to protect their daughter from an unwanted marriage; the interplay of their eyes and hands, subtle brush strokes as it were, bespeaks years of intimacy.
*The Design and Cinematography. Everyone mentions the wedding and reception of Villandrit and Régine, done entirely in silhouette, and it is truly exquisite. There's a great deal of lovely silhouette imagery throughout the film, in fact, though none of it is quite as abstract (or, in this case, as evocative of the cut-out animation of Lotte Reiniger) as the wedding. But La Maison du Mystère never lets up in its knack for making the viewer sit up straight at its beauty and originality of composition, presumably the joint work of director Alexandre Volkoff and cameraman Joseph-Louis Mundviller. One gasps as Villandrit's growing paranoia about imprisonment suddenly takes on definition. One tears up at the shadowed beauty of Villandrit's little family huddled by a glowing fire. One hits the Pause button (at least I did) at the framing of a ruined castle with characters at different levels moving in quiet counterpoint. But nothing prepares one for the conclusion of chapter eight, "No Way Out," when Villandrit takes leave of his family to complete his quest for justice. They drive off, he waves, and the pullback shot that follows is a jaw-dropping optical illusion conveying, as few other shots in cinema have done, the loneliness of a man on a mission. Borger notes that when the film was shown at New York's Museum of Modern Art in 2003, "the audience began clapping at the end of chapter 3 and didn't stop until the final chapter." The end of chapter eight is where they perhaps stood and screamed. They should have.
*Ivan Mosjoukine. What is there left to say about this extraordinary performer? I've mentioned the brio of Fairbanks, the intensity of Barrymore, and the finesse and truth of Chaplin. Stir in drop-dead looks and add blue eyes that can burn a hole through the camera lens. To watch him in La Maison du Mystère, Feu Mathias Pascal, or Kean is to see acting that transcends time's erosion. Many of us, some years ago, could not spell or even pronounce his name correctly, but Mosjoukine now holds his own in the pantheon of silent film greats, thanks to the munificence of --
*Flicker Alley. I will end with a tip of the bowler to this company that, year after year, commemorates the artistry of cinema's pioneering visionaries. With their fervor and dizzying inspiration, those pioneers remain strong and enduring pillars through the standards they set so long ago, as does Flicker Alley itself. Both deserve our continued gratitude and patronage.

Copyright 2015 by Dean Thompson. All rights reserved