(1928)
Commentary
Marie Prevost was a delightful actress whose star was only able to shine brightly now and then during the silent era, as in "The Marriage Circle" (1924), for example. She made nearly 50 silent features, which indicates she was very much in demand and is a tribute to her talent. Five of her starring features from the 1926-28 period are available on home video, all delightful, but all somewhat moderate in their quality - "Up in Mabel's Room" from 1926; "Getting Gertie's Garter," "The Girl in the Pullman" and "The Rush Hour" from 1927; and "A Blonde for a Night" from 1928. All are worth seeing, not because they are great films are because they have outstanding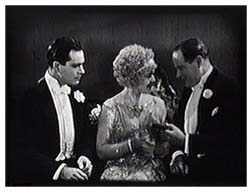 story lines, but because they star Marie Prevost, a charming comedienne with a winning personality.
Prevost was very good at being sexy and flirtatious, with pursed lips and long-lashed eyes that coolly look up and away when being coy, and "A Blonde For a Night" gives her ample opportunity to do what she does best. This is given a dash of spice when she (Marcia) dons a blonde wig, plays the part of a sexy model in a Paris dress shop, and flirts with her husband, Bob, (who doesn't recognize her) and his best friend, George, a devout skirt-chaser! Soon she has both of them competing for her attention and does all she can to frustrate their attempts to be alone with her and made the competition even more intense.
She starts the ball rolling when she invites each one separately to her room for dinner, each one believing he alone has been invited. Of course, both arrive at her apartment at the same time! She has even more fun at her husband's expense when she suggests they elope. He tells her he's married, and she replies that it's OK, she's married, too. The more she pushes for the elopement, the more nervous he gets, and the more she enjoys the charade.
Things are made even livelier by the presence of Hector, the dress shop owner who is aiding her in the ruse. He goes into the bathroom to hide from the two suitors and falls into a bathtub full of water. Later, when he accidentally comes into the room where Marcia and Bob are wearing one of her dressing gowns, she has no choice but to introduce him as her husband.
The last third of the movie is taken up with the two suitors in and out of Marcia's apartment trying to outwit and "one-up" the other one, while Hector does his best to stay undiscovered while, at the same time, helping Marcia. It's not the most original comedy material, and certainly not top rank stuff like we get from Keaton, Lloyd or Chaplin, but it is amusing shenanigans and pleasant entertainment.
Special note should be given to the titles and title writers John W. Krafft and Betty Browne (Browne is credited with "comedy titles"). The film is sprinkled throughout with some delightfully humorous ones. For example, Bob and Marcia are supposed to go out on the town until friend George arrives for a visit. He and Bob then sit down to "remember" all of their old girlfriends. Bob tells Marcia to run along while he and George discuss the stock market. Angry, Marcia puts on her wrap and heads for the door. On the way out she informs Jenks, the valet, "If that memory expert gets through discussing stocks and blondes, tell him his future widow has gone out!"
As mentioned, Marie Prevost is a delight to watch, but the three men who support her in this movie do a better than average job, too. Harrison Ford, in his fifth outing with Prevost, does a competent job as the flustered husband. T. Roy Barnes scores a little higher as the womanizer George. He comes across as egotistical and moderately obnoxious in the tales of his female conquests and his self-confidence in charming the opposite sex. Highest supporting honors, though, go to Franklin Pangborn as Hector whose facial expressions were made for silent movies, and, admittedly, he had the perfect voice to go along with it as talking pictures would prove in a couple of more years.
Prevost got her start in Mack Sennett comedies, and none of the bathing beauties were any more beautiful than she. By the time she made "A Blonde for a Night," though, it is evident she put on some weight, although she is still beautiful and very sexy in her role. When she left Sennett and moved into feature films in the early 1920's, she was a decided success.
Author Charles Foster in Stardust and Shadows (Dundurn Press, 2000) claims that a comment at a party by director Ernest Lubitsch
marked the downhill slide for Prevost's career. Lubitsch had just finished directing Prevost, Monte Blue, Adolphe Menjou and Florence Vidor in "The Marriage Circle" and commented that she should be billed as the star of the film and that she "stole every scene in the film." Producer Jack Warner, along with Menjou and Vidor (Blue agreed with Lubitsch), was furious and, according to Foster, did everything he could to ruin her career from that point on. Richard Griffith, Arthur Mayer and Eileen Bowser in The Movies (Simon and Schuster, 1957) claimed that Prevost's voice was unsuited for the types of roles she was playing in the twenties, and when sound came in, she was relegated to "a gum-chewing soubrette in supporting roles." They go on to say that she took her "demotion" badly and turned to alcohol. However, Foster points out that her voice came through well in her role in the 1929 talkie "The Godless Girl," and that reviewers "singled her out and praised her role."
Nevertheless the roles did decline, and she was soon living on handouts from friends. She was found dead in her apartment in 1937. Foster said an autopsy suggested she had "starved herself to death trying to get her weight down to a level producers would accept."
This was a sad end to a beautiful and talented star, and it's a shame with superb performances in neat little comedies like "A Blonde for a Night," "Getting Gertie's Garter" and "Up in Mabel's Room" that she didn't have the opportunity for more of these in the sound era. Although she gets rare and little mention in histories of the silent era, Prevost deserves to be remembered as more than one of Mack Sennett's bathing beauties. She was a talented actress, and this talent is particularly evident when she rises above material that is not of the caliber she deserves.
copyright 2001 by Tim Lussier, all rights reserved.
---
Return to "A Blonde for a Night" page