(1928)
Pathé/DeMille
Cast: Marie Prevost (Marcia), Harrison Ford (Bob Webster), Franklin Pangborn (Hector), T. Roy Barnes (George Mason), Lucien Littlefield (Jenks, Bob's valet)
---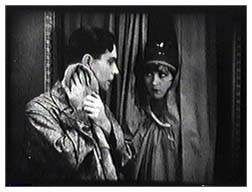 Bob and Marcia married within days of meeting one another in Paris, and now they are about to celebrate their one week anniversary when Bob's old buddy, George comes along. Bob ignores Marcia as he and George talk about old girlfriends.
Marcia leaves angrily and runs into an old boyfriend, Hector, who owns a Paris dress shop. He invites her to come by the shop to pick out a dress as a wedding present. While there, she tries on a blonde wig along with the new dress, and Hector insists that her own husband would not recognize her.
George is a dress buyer, and comes by the shop. He is smitten with Marcia not realizing she is Bob's wife.
When Marcia goes home, she and Bob fight, and he walks out. Hector arrives with the dress and wig as a present for Marcia. When Marcia says she is leaving, Hector convinces her to wait and see how Bob acts when he returns. He engages the suite next door for Marcia so she can observe from that vantage point. Before leaving, though, she gives Bob's valet a note saying she has left on a train for Berlin.
Bob returns, and George follows soon afterwards to tell him about the blonde he saw at the dress shop. Marcia and Hector listen from next door as Bob excitedly tells George he has to go to Berlin to bring his wife back. Because Bob seems so repentent, Marcia decides she will go back to him as soon as George leaves. However, George convinces Bob to wait a couple of days before chasing after her. He suggests they go to the fashion show at the dress shop. "Maybe that blonde of mine is twins," he says.
At the fashion show, Marcia comes out in the blonde wig, and, sure enough, Bob does not recognize her. She flirts with Bob and George, and both are soon chasing after her. Each thinks he has made a dinner date with this model after "ditching" the other. However, both show up at Marcia's suite for dinner.
Both are asked to leave after dinner, but each one tries to sneak back in to see Marcia without the other one knowing it. Hector also arrives on the scene, and Marcia tries to keep him from being seen by the two men. In a moment of infatuation, Bob gives the blonde a bracelet he had intended as a peace offering for his wife. Later, when Marcia (as the blonde) insists that they elope, Bob begins to recoil and tries unsuccessfully to get his bracelet back.
Humorous complications continue as each of the three men is hidden from the other and Marcia tries to keep her real identity hidden. All ends well, however, and Marcia and Bob are soon reunited.

copyright 2001 by Tim Lussier, all rights reserved.
---
Return to "A Blonde for a Night" page