(1919)
Comments, notes, etc.
Eileen Whitfield (Pickford: The Woman Who Made Hollywood, University Press of Kentucky, 1997)
"The Broadway version, which starred Ruth Chattterton, was plaintive. Pickford and Neilan (the film's director) in typical style, rediscovered the material through slapstick. In contrast, its dramatic moments, including the death of a baby in Mary's arms, are all the more moving and surprising. . . . the film is remarkable for its fluidity, the way its seemingly disconnected incidents transmit a deeply experienced childhood. These culminate in the closing image, a happy metaphor for sexual awakening."
---
Robert Windeler (Sweetheart: The Story of Mary Pickford, Praeger Publishers, 1974)
"It is an exposé of shoddy orphanages and impersonal management, and yet another slap at the rich who run them and other institutions that oppress the poor."
---
Kevin Brownlow (Mary Pickford Rediscovered, Harry M. Abrams, Inc., 1999)
"Mary gave the direction to Neilan, who imbued the film with the lovable side of his personality . . . There is hardly a thing that one could criticize about the film. Yet Mary is on record as saying she disliked it.
"The craftsmanship of the film shines through even the limitations of a VHS casssette, and as a human document it is, quite simply, adorable. The orphanage scenes are so vivid and poignant you cannot imagine anyone trying to copy them."
---
"Our Animated Monthly of Movie News and Views" (Motion Picture Magazine, June, 1919)
"Mary Pickford has got back at Mickey Neilan, her present director. Four years ago Mr. Neilan played Lieut. Pinkerton to Mary's Madame Butterfly, and there were so many rehearsals that Little Mary fain would have died earlier in the play than the suicide called for. Well, she's had it in for Micky ever since, for they used to arise at 4 a.m. and work all day on the Japanese tragedy.
"Now Marshall Neilan is again directing Mary in 'Daddy Long Legs' and plays an important role besides. Mary directs while Micky acts, so one evening recently she gave Mr. Neilan special directions to be at a certain spot at 4 a.m. next day. With the hour of daylight conserving now in vogue, this meant dark rising time. Mr. Neilan tried to find the spot she'd designated as a 'location' and wandered from the Santa Monica foothills to some Holllywood canyons - that is, wandered in his machine. Finally he landed at the studio at 7 a.m., sore and hungry. Miss Pickford said, 'Why, you're just on time this morning, Mr. Neilan; congratulations'; her director has not gottten over this 'stall' yet. Meantime, Mary is making him roll over, climb, and do all sorts of stunts when it comes her turn to direct rehearsals. She says that rehearsals, like curses, come home to roost, and she thoroly enjoys her chance to crow."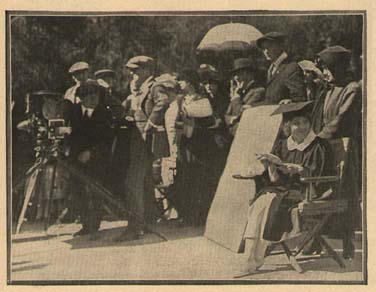 Production photo of the graduation scene from "Daddy Long Legs"
at the "famous Busch Gardens which adjoin the sumptuous Busch
home in Pasadena." Mary Pickford at right in cap and gown.
---
Return to "Daddy Long Legs" page