United Artists
Cast: Corinne Griffith (Toni Lebrun/Antoinette), Louise Dresser (Baroness Rosa de Garcer), Charles Ray (Richard Dupont), Lowell Sherman (Henri D'Avril), Maude George (Madame Bauer), Edward Martindel (Colonel Dupont)
SYNOPSIS
Toni Lebrun decides to leave her life working of working in a Vienna pretzel shop with her aunt and uncle to pursue a career in opera. On the basis of a certificate of vocal training from the Vienna Conservatory of Music and a photograph, she receives a letter offering her a trial engagement at the Palais de Paris in Budapest. The Palais de Paris turns out to be a nightclub where the owner, Madame Bauer, is more interested in showing off Toni's figure to the men in the audience than her voice. When Toni rebuffs one of Madame's regular customers, Henri D'Avril, with the help of wardrobe mistress Rosa, they are both fired. Rosa tells Toni not to worry and suggests she accompany her on her vacation. They go to the opulent Hotel Eden where Toni soon learns that Rosa is a real baroness who works as a wardrobe mistress 50 weeks each year and spends her late husband's military pension to live two weeks each year in grand "pre-war" style. Rosa registers Toni as her daughter, Antoinette. At the hotel, she meets rich, handsome and debonair Richard Dupont and is soon pursued by both Richard and his elderly uncle, Colonel Dupont. Toni falls in love with Richard, but the two weeks' vacation and Toni's ruse must soon end. Just when all seems hopeless, Richard proposes. However, when the day of the wedding arrives, so does one of Richard's relatives who, unfortunately, is someone from Toni's past.
---
COMMENTARY
"The Garden of Eden (1928) is "a sophisticated sex comedy, stunningly photographed, handsomely designed by William Cameron Menzies, and displaying Miss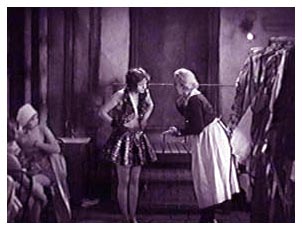 Griffith's beauty and her neat sense of fun to their very best advantages." Those are the words of Joe Franklin in his 1959 book "Classics of the Silent Screen" (Cadillac Publishing Company, Inc.), and they only begin to describe what a delightful film this is.
Thanks to a new company, Flicker Alley, this film has been brought to the home market on DVD, and it's a stunning print with a wonderful organ score by Robert Israel. Jeff Masino of Flicker Alley said the source materials are from the John Hampton Collection/Library of Moving Images in Hollywood and are the best elements available . . . and it is superb. The only small drawback is that the original release included a color dream sequence that was about five minutes long. This took place while Toni was on the train from Vienna to Budapest early in the movie. Since this section of the film was processed separately and later inserted into the prints when they were distributed to theatres, it, unfortunately, does not survive today. However, there is no effect on the storyline whatsoever, and "The Garden of Eden," as presented today, has much to recommend it.
Griffith's Performance
First of all is the lovely Corinne Griffith. Although about 10 of her features apparently survive today, "The Garden of Eden" is the only one readily available for home viewing. The story is an adaptation of a very successful stage play and is excellently translated to the screen, but it is Griffith's performance that solidifies the enjoyment of this film. When Toni (Griffith) arrives at the seedy Palais de Paris, the very mannish-looking (an amazing resemblance to Leatrice Joy in "The Clinging Vine") Madame Bauer declines to hear her sing opting instead to see her legs . . . andwe quickly understand why Madame is pleased with her new find. Right away she tells Rosa to fetch the "Seemore" costume for Toni, which turns out to be a very skimpy, glittery outfit more appropriate for a circus performer. However, Griffith is absolutely stunning in the costume that was obviously meant to give movie patrons ample view of her very attractive legs. Director Lewis Milestone apparently recognized the appeal of Griffith's beauty, too, as there are several close-ups of her throughout the film displaying expressive eyes and an infectious smile. The first actually comes as the film opens when we see Toni awake to the alarm as she readies to run away from her drab existence in the middle of the night. Another charming close-up comes later in the film at the Hotel Eden when she pulls the covers up to her chin and bids a silent goodnight to her new-found love in the building across the courtyard by putting a
finger to her lips to throw him a kiss. This small gesture, along with a slight biting of the lower lip and a subdued smile, portray eloquently a girl infatuated and happy.
As this brief scene indicates, Griffith offers us more than just her beauty. She is an engaging, seasoned performer, who very capably conveys the personality and charm of Toni Lebrun in this silent photoplay. Both Charles Ray and Griffith are to be commended for the interplay that introduces them to each other, a rather lengthy segment of the film that is well-worth every minute. When Toni arrives at the hotel (signed in the register by Rosa as her daughter, Antoinette), she sits down beside a large window in their grand suite and begins to play the piano. Across the courtyard in an upstairs window, Richard Dupont (Ray) hears the music, notices the beautiful young lady playing, and applauds. Toni is perturbed by the "intrusion" and cuts off the light. Not to be deterred, Richard goes to the light switch and begins flipping it on and off. By this time, Toni is amused and begins to switch her lamp on and off while hiding beneath the windowsill. Rosa comes in wanting to know what is going on and tells Toni to look out the window. The entire building across the courtyard, several stories high, is filled with blinking lights in every window!
This interplay continues when Richard calls and asks if he may come over. He doesn't realize he's talking to Rosa who grants his request with the intention of teaching him a lesson. As Rosa sits at the piano waiting for Richard's arrival, Toni goes in the other room to peep through the keyhole. However, when Richard arrives, he comes in the wrong door and gets a view of Toni, bent over, peering through the keyhole.
This scene progresses as Toni rebuffs Richard's playful advances until Rosa tires of waiting and comes into the room. Richard hides behind the door, and Rosa suggests she and Toni forget the tardy suitor and get dressed for dinner. Griffith exhibits some very capable comedic talent in this scene as she tries to keep Rosa from learning of Richard's presence and, at the same time trying to keep Rosa from changing clothes with Richard in the room. Very funny!
Beautiful Sets
In addition to Griffith's beauty, there is also the beauty of the sets by the masterful William Cameron Menzies. The entire movie was filmed on the United Artists lot in California, but the sets are very pleasing to the eye and at no time appear to be anything but believable. According to publicity materials, "a replica of the Hotel Eden in Monte Carlo, from which the picture gets its name, was constructed by United Artists artisans. Budapest streets were thrown up. A Monte Carlo thoroughfare arose, as if by magic." It was noted that even the train cars going from Vienna to Budapest were duplicates of foreign cars.
However, as grand and opulent as the sets in the hotel are, the scene that stands out is when Richard and Toni are in the Garden of Eden outside the hotel. This nighttime scene takes on a dreamy, ethereal air as we see a close-up shot of their feet walking down a gravel path. In a shot from across a pool of water, they arrive at a large tree with a circular bench constructed around it from the huge vines, the shimmering water at their feet with a beautiful white swan swimming about. The next shot shows a closer view of the couple though a flowery branch that hangs between the camera and the two lovers. A more beautiful set couldn't have been imagined for this scene during which Toni finally succumbs to Richard's charms.
The Climax
The climax of "The Garden of Eden" is as rousing, emotionally charged, and, at the same time funny, as any viewer could ask for. Without giving away too much of the ending, just before the wedding is to begin, events lead Toni to believe that Richard doesn't want to marry her and is even going so far as to offer to pay her off. She storms into the room where Richard and all his relatives are, angrily tells him and everyone else what she thinks of them all, and, right there in the middle of the room, tears the jewelry from her neck and wrists, takes off the wedding gown, and marches away in her undergarments. One of the most amusing moments in the film comes next as she exits the large doors into the grand ballroom where all the guests are waiting, and the orchestra begins to play the wedding march as they were instructed, yet Toni is furiously stomping down the grand staircase in underclothes! It was noted that, as a result of this scene, several lingerie companies sought Griffith's endorsement of their products, but she declined them all.
"The Garden of Eden" was a successful stage play in Europe in the mid-twenties. Griffith and husband Walter Morosco saw it in Germany and immediately told United Artists head Joseph Schenck that she wanted to film it. "The Garden of Eden," to many, takes on the style of Ernst Lubitsch's films, but this is not surprising since scenarist Hans Kraly also wrote four of Lubitsch's screenplays.
Superb Performances
Mention should also be made of the excellent performances from Louise Dresser and Lowell Sherman. Dresser is superb as the motherly Rosa and holds her own in the comedy scenes, as well. This, and her performance in Valentino's "The Black Eagle" (1925), show that she can do light, sophisticated comedy as well as the heavy drama of such films as "The Goose Woman (1925). Sherman, who generally is cast as a scoundrel in his films, is always excellent and a master at raising his eyebrows and assuming a superior air. Of course, Sherman is best remembered as Lennox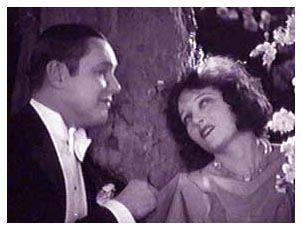 Sanderson, the scoundrel who duped Lillian Gish into a fake marriage in "Way Down East' (1920), but one of his best performances is as Norma Shearer's nemesis in "A Lady of Chance" (1928).
The Reviews
As for the reviews of the time, the New York Times reviewer said, "This is a long story, perhaps too long, but as Miss Griffith appears intermittently, it is never really tedious. There are some very good ideas, but here and there the incident might almost be called silly. Occasionally Lewis Milestone permits his comedy to stretch itself beyond the limit." He closed the review with, "Miss Griffith gives a capable and graceful performance. Her beauty has not been missed by Mr. Milestone in his direction of the scenes. Louise Dresser and Lowell Sherman do well by their parts, and Edward Martindel is sympathetic as a love-sick uncle."
Although the New York Times wasn't very enthusiastic, Variety was extremely praiseworthy of the film. "This picture has everything, star, cast, romance, title, comedy and intrinsic interest quality. A feature for anybody's house on any booking basis." The reviewer went on to say, "Louise Dresser as the fairy godmother adds another stately role to her growing gallery of engaging portraits; while Charles Ray brings his boyish awkwardness to a part that was made to order for him. Corinne Griffith in all her ingenue beauty is caught in some stunning camera studies and throughout plays a delightful comedy role with vast charm . . . The picture is meaty with amusing comedy passages . . . Titles are skillfully designed to emphasize the innate humor of the situation but never descend to gagging on their own . . ."
---
Return to "The Garden of Eden" page