Commentary by John DeBartolo
A Royal Production
Produced by Banner Productions
Cast: Edith Roberts (Nancy Cornell/Vera Velasquez), Robert Agnew (Harry Canby), Virginia Pearson (Mrs. Blaine Jameson), Phillips Smalley (Willoughby Thompson) and Bertram Grassby (Fred Norris).
---
Synopsis
Our story begins at The Manhattan Yacht Club "where a man must not only have an anchor, but a certain social position to moor his yacht." The yacht's owner, Harry Canby, has just returned from a cruise around the world, his quest for adventure a failure.
When he leaves the dock he finds a taxi, but no taxi driver. Thinking Harry is the taxi driver, a young lady runs up to him excitedly asking him to drive her. As he tries to explain he is not the driver, she tells him she's being pursued by some men. Harry agrees to drive her and speeds away with the young lady in the back of the taxi while a group of thugs pursue them in another car. When the pursuers run the taxi onto the sidewalk, the young woman leaves during the fracas as Harry battles the thugs.


When they discover the young lady has gone, the thugs leave as a very beaten and dazed Harry recovers himself. Harry's mystery passenger dropped a vanity case with a young woman's photograph inside the taxi. Pocketing the case, Harry drives to his apartment.
Later he is visited by the owner of the taxi and explains the circumstances that prompted him to take his vehicle. Harry then asks the driver to take him to a party that is being held in honor of his return. As he is getting dressed, the driver notices the vanity case and is about to tell Harry who the young lady is when a drape flutters and the taxi driver is shot dead. When Harry goes to look for the vanity case, it has disappeared..

Harry calls the police, but they don't believe his story. However, he is saved a trip to the police station by his guardian, Willoughby Thompson, who assumes responsibility for his young ward.

At that same time in an apartment in the theatrical district, Fred Norris, a promoter of shady shows, is being harassed by his wife, Vera Velasquez, who understudies for the show's star, Nancy Cornell. When she complains that he had promised to make her a star, he tells her of his plan to make them millions.

He informs Vera that Willloughby Thompson's wife deserted him years ago and took their infant daughter with her. Norris said he is the only one who knows that Nancy Cornell is Thompson's daughter. His plan is to do away with Nancy and have Vera, who looks exactly like Nancy Cornell, replace her and claim that Vera is Thompson's daughter.

At a reception for the return of Harry from his world cruise, Norris shows Thompson the locket and tells him that it was given to him by his wife just before her death. At the party, the hostess introduces Nancy who has just come from a very successful stage play abroad. The hostess proposes that Nancy will be the next toast of Broadway.

Harry recognizes her a the woman in the taxi, and Thompson sees a resemblance to his wife and his long lost baby daughter. Harry approaches Nancy about the taxi incident, but she denies any knowledge of it.

During a dance, the vanity case falls to the floor (we don't see who dropped it, however) and it is pushed toward Nancy. When she opens the case, the photograph of her mother is missing.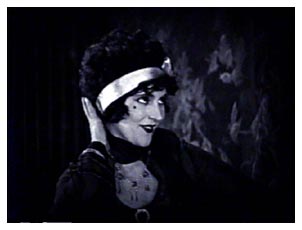 Harry goes to the theater where Nancy is due to appear, but she refuses to see anyone. Posing as a wig delivery man, Harry, wearing a wig, enters Nancy's dressing room. Amused by Harry's appearance, she relents and tells him that she was his passenger but is afraid that she is being watched and followed. She tells Harry that, according to Fred Norris, Willoughby Thompson is angry that her mother left him is out to get revenge on her if he learns her true identity.

That evening as Harry and Thompson are about to leave for the opening of Nancy's new show, Harry is visited by the police who are to arrest him for abducting Nancy Cornell!
Edith Roberts
Edith Roberts (1899-1935) was born in New York City, educated at a seminary on the Hudson, and made her start on the stage in 1916. After a year in vaudeville, she was engaged for a part in Christie Comedies.

She then went to Universal, and during the next decade she appeared opposite such actors as Lon Chaney and Alfred Lunt and was usually cast as a strong-willed woman. She retired from the screen in 1929, and although she appeared in about 60 films, and she can be seen in only a few including "The Man From Headquarters" (1928) and "The Taxi Mystery" (1926).
Robert Agnew
Robert Dean Agnew (1899-1983) born in Dayton, Kentucky, had a vaudeville and stage background before becoming interested in motion pictures in 1919. A former "Arrow Collar" model, he was one of the busiest juvenile leads of the 1920s. He was featured opposite many of the screen's leading ladies including Norma Talmadge, one of the era's great divas. He also co-starred opposite the likes of Gloria Swanson and Betty Blythe, and although he had a vaudeville and stage background, he was one of the many silent stars to suffer from the changeover to sound. With his starring career over, the former juvenile lead appeared in a couple of bit parts before retiring in 1934. During his decade on the screen, he was with Vitagraph, Selznick, and Famous Players. Although he appeared in over 70 feature films very few have survived.
Philips Smalley
Philips Smalley (1875-1939), was born Wendell Philips Smalley in Brooklyn, New York City, N.Y., of wealthy parents. He made several sojourns to Europe with his parents in the 1880s meeting such prominent personages as Disraeli, Gladstone, Robert Browning, James McNeill Whistler, and Oscar Wilde. Entranced by the reminiscences of major theatrical talents like Ellen Terry and Sir Henry Irving, Smalley decided to tread the boards himself after graduating from Balliol College, Oxford. Having appeared as Hamlet in an amateur production, Smalley continued pursuing acting during his postgraduate years at Harvard. Although he suffered a broken neck in an automobile accident in Brooklyn, he didn't let it interfere with his career.

Smalley was a member of the New York Bar for seven years before switching to the stage. He was the troupe
actor-manager of a road company of "Why Girls Leave Home" when he met and married Lois Weber. When the touring got the best of her, Lois returned to New York and in 1908 signed with the Gaumont studio in Flushing, New York

With his strong jaw and deep-set eyes, Smalley was an ideal leading man. Deciding that the stage was too confining for his ambitions, he went to New York City and joined his wife at Gaumont. As a team, they eventually moved to the Reliance studio and then to Edwin S. Porter's Company which they took over when Porter left in 1912. The Rex Company then became part of the new Universal Studio. At Universal Smalley made a costly production of "The Dumb Girl of Portici" with the great dancer Anna Pavlova. As fate would have it, Boris Karloff was visiting Los Angeles and made his screen debut in the film as an extra. Ever on the outlook for cinematic innovations and fascinated with camera tricks, Smalley introduced the triptych, three separate scenes processed on the same frame, in a 1912 one-reeler.

The films from this period were signed by "The Smalleys," although Weber received the sole writing credits. By 1917 she was putting her own name on the productions, and Smalley gradually faded in importance as he remained at Universal as an actor/director.

Weber, who had trained to be a school teacher, was an equally inventive director, and, in fact, she remained behind the cameras long after her husband had abandoned directing to return as a full time actor. While he made quite an impression as a movie star in the years just before World War I, by the end of the war, his career was just about over. He was divorced from Weber by the mid 1920's, and he finished his screen career in character roles.

During his long career, he was with numerous studios including, Kalem, NYMP, Rex and Bosworth, and he directed over 170 films, acted in about 190 films, including "Flaming Youth" (1923) with Colleen Moore, "Charley's Aunt" (1925) with Syd Chaplin and "Stella Maris" (1925) with Mary Philbin. He also scripted and produced numerous films which most have disappeared
Virginia Pearson
Virginia Pearson (1886-1958), born in Louisville, Kentucky, began her stage career in a stock company and had two seasons as the vampire in Robert Hillard's "A Fool There Was." This was a few years before Theda Bara appeared in the screen version. After another successful stage tour, Pearson made her screen appearance in Famous Players Film Company's production of "Aftermath" released in 1914. In 1915 she went to the Vitagraph Company, and the dark-eyed, handsome woman became one of the company's stars. In 1916, William Fox signed her and placed her in his growing stable of stars that ironically included Theda Bara.

Pearson made a score of vamp films which gave her the money and the star-power to form her own Virginia Pearson Photoplay Company in 1919. Her husband and stage partner, Sheldon Lewis, became the treasurer and the in-house screen villain. By the end of the World War, vamps were out of style, and her output from her production company was only two films forcing her to take supporting roles from other studios. Her most famous role was in Lon Chaney's spectacular "Phantom of the Opera" (1925) as the opera singer Carlotta. She eventually retired from the screen in 1932.
Sources:
The Big U by I. G. Edmonds
The Film Encyclopedia by Katz
The Movies In The Age Of Innocence by E. Wagenknecht
An Evening's Entertainment by R. Koszarski
Motion Picture Studio Directory (1921) by Motion Picture News
Stars Of The Photoplay (1924) by Photoplay Magazine
The American Film Institute Catalog of Feature Films
Copyright 2003 by John DeBartolo. All rights reserved.
---
Additional notes on "The Taxi Mystery" (1926)
by Tim Lussier
"The Taxi Mystery" starts off very promisingly. The whole ordeal with a mysterious woman convincing Harry to whisk her away in a stolen taxi as a band of thugs follows is very exciting. However, believability must be maintained, too, in order to hold the viewer's interest. When the thugs run Harry's taxi up on curb, Harry jumps out and begins to fight all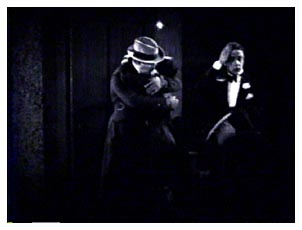 four of them. Suddenly one of them discovers the girl has gone, an amazing feat considering the taxi is next to a large, blank wall in the city. But, we accept that and move on.
Next we see Harry in his apartment talking to the owner of the taxi. Harry is in the next room, and the two are discussing the mysterious girl. Just as the driver is about to identify the photo in the vanity case, a hand emerges from a curtain, and the driver is shot dead. First of all, how did the murderer get into Harry's apartment, and, even more amazingly, how did he escape as well as take time to get the vanity case? This sort of scenario may be believable in the recesses of a large, empty theatre, but not in the living room of an apartment.
The story doesn't do a good job of maintaining the aura of mystery either. The bad guy (Fred Norris) is quickly identified, and the viewer is not required to do any guessing at who's behind all the mischief or the villain's motives for doing so. Norris' evil plot is quickly revealed so it even becomes obvious early on who these thugs were working for when they were chasing Harry and Nancy and what we can expect from Norris and his gang throughout the rest of the movie. Where's the mystery in that?
Returning to the subject of believability, we are also asked to accept without question that Vera Velasquez and Nancy Carroll are just, by chance, identical in appearance. Now, if Vera had been a long-lost evil twin, we may be able to accept that, but this coincidence stretches the imagination just a little too much.
The two detectives who come to arrest Harry on two different occasions and who work undercover at his reception, seem to have been inserted for some mild humor, but we are not really sure. We see them at the reception, very uncomfortable, in tuxedos. One even comments to the other "You look like a detective disguised as a gentleman!". We are led to believe that these two may be used for comic relief during this segment, but the movie quickly moves on to the "mystery," and the detectives are seen no more. They bring to mind the two detectives in Raymond Griffith's "Paths to Paradise" (1925) made the year before. The situations in both films where detectives are undercover at a reception
are similar, but that's about as far as the comparison goes. The detectives in the Griffith film add much to the humor of the film and play a much more prominent role, as well.
This is not meant to be a totally negative assessment of this film. The point of the above comments is that "The Taxi Mystery" is not a well-crafted story where all of the elements work together as they should. The story has its weak areas which do make the final denouement a little disappointing, and outside of the opening chase, there is nothing that comes even close to being a "seat gripping" moment. Certainly, the film is more enjoyable than a lot of silents that are available for viewing today, but that's mostly due to the players.
Robert (Bobby) Agnew is a likeable juvenile lead, although we would never believe him to be anything remotely related to a 'tough detective" type. And, of course, the story does not attempt to portray him that way, only as a well-to-do, somewhat spoiled young man who gets caught up in some shady shenanigans. With that, he does well.
Edith Roberts does a commendable job, especially in assaying the two widely different personalities of Vera and Nancy. Bertram Grassby, with the prerequisite "pencil-thin" mustache, is a good heavy.
It must also be mentioned that the picture quality (a VHS copy from Videobrary) is excellent. The contrast is sharp, there is no jumpiness, and all of the opening titles and intertitles appear to be original and intact. "The Taxi Mystery" may not be one of those films you would watch over and over again, but it's well worth a look for the first time.
Additonal comments copyright 2003 by Tim Lussier. All rights reserved.

---
Return to the "The Taxi Mystery" page