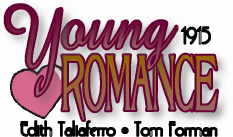 Jesse L. Lasky Feature Play Company
Paramount Pictures Corporation
Produced by George H. Melford
Written by William C. de Mille
Director General: Cecil B. DeMille
CAST: Edith Taliaferro (Nellie Nolan), Tom Forman (Tom Clancy), Raymond Hatton (Jack, Tom's Chum), Florence
Dagmar (Lou, Nellie's Chum), Al Garcia (Count Spagnoli), Mrs. Lewis McCord (Landlady), Charles Wells (The Motor Boatman)
SYNOPSIS
Nellie works in the notions department of a large New York department store. Tom works on another floor in the hardware department. Their paths have never crossed, yet they both dream of living an existence of wealth and society . . . if only for a week. Coincidentally, the two have saved their money all year long to spend a week's vacation at a resort in Maine that is frequented by the rich. Nellie is able to stay at the resort, but Tom stays at a nearby cheap hotel and whiles away his days at the resort as if he were a guest there. They meet and fall in love, each thinking the other is wealthy. Both have assumed false names, Nellie's having been taken from a wealthy customer, Ethel Van Dusen, who comes to her notions counter. A crook posing as a wealthy count reads in the newspaper that Miss Van Dusen (the real one) has inherited a fortune and plots to kidnap her (Nellie, that is). Will Tom rescue her, and will they go their separate ways without revealing their ruse?
COMMENTARY
"All the Elements"
"Young Romance" is an absolute surprise, and a delightful one, at that. This film was made in 1915, and, unfortunately, we don't have a lot available today by which we can judge the motion picture output of that year. Of course, there are many one and two-reelers, both comedies and short dramas, but the features are limited to, of course, "The Birth of a Nation," several William S. Hart westerns, Theda Bara's "A Fool There Was," Douglas Fairbanks' "The Lamb," and a few others, mostly heavy-handed dramas. "Young Romance" is a fresh surprise in that it is a light-hearted story with all the elements that go into making an enjoyable viewing experience - a tightly-knit story, likable characters, light comedy, suspense, a well-defined bad guy who gets his come-uppance, and a happy ending. Variety's reviewer said the story was "not a lively one, and is too long. The film, if cut down to one or two reels, might be worthwhile on a picture program." Nothing could be further from the truth. Not that the reviewer isn't entitled to his opinion, but it could be this film stands up better today, with so little to compare it to, than in 1915 when, most certainly, it wasn't meant to be a major cinematic milestone. As for the reviewer's comments about length, 1915 was still a time when many, who had been exposed to far more one and two-reelers than features, thought 10 or 20 minutes was sufficient time in which to tell a story.
No one would claim that it is a great story, and, certainly there are no surprises in its telling. The Variety reviewer commented that this type of story, a working girl or guy masquerading as one of the wealthy, was nothing new even in 1915. Nevertheless, it's a charming story, and Taliaferro and Forman, who are not two of the most memorable names from the silent era, add life to a very nicely written story by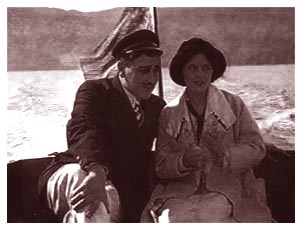 William deMille. Nellie and her roommate are giddy with excitement about this new adventure, and Tom appears equally excited, although his roommate (played by the ubiquitous Raymond Hatton) seems to be somewhat jealous of his friend's opportunity.
In stories such as this, we brush aside occurrences that border between coincidence and incredible. For example, both Tom and Nellie work in the same store but have never even seen each other so that, when they meet at the resort, neither has a clue that they work in the same building in New York. OK, if we accept that, it may be a little more difficult to accept that they both have the same idea for the same vacation time at the same resort. But, who cares? That's what makes it fun.
"A Very Capable Director"
Director George Melford, probably best known for Rudolph Valentino's "The Sheik" (1921), was a very capable director from the teens through the 1930's. He handles this story well and uses a very common but effective device to hold our interest. Early on in the movie, we are introduced to Count Spagnoli. We see him wandering around the lobby of the resort and, for some reason, just don't like his looks. However, we are curious about this character because we haven't quite figured out where he fits into this story. A little later, our suspicions that he is up to no good are confirmed when we see him sneak into the cheap hotel where Tom is staying and the landlady comes to his room demanding rent. Still, how and when he fits into the lives of our two main characters is reserved until later.
The film belies the fact that it was made in 1915. It actually has a more polished feel and looks slightly less dated than, say, Bara's "A Fool There Was." Yes, the fashions are there (Taliaferro has one hat with a bow that must be three feet wide!), but the film almost reminds one of a 1915 version of one of the teen movies from the 1960's. And, as noted, it's a tightly knit story. We are even given a sense of chronology as each day of the week is introduced with a title, so we get a sense for how the week of vacation is progressing for these young people. Even the photography is nicely done with some very pleasing beach scenes. One takes place when Nellie and Tom go for a walk on the beach after dinner. The two stand, back to the camera with their arms around each others, silhouetted in the sunset - a gorgeous shot. Also, Melford tried a couple of camera "tricks" that actually come across very well, actually more effective than some of the devices D.W. Griffith used in "The Birth of a Nation." In one, the couple are sitting together in the hotel the night before they are to return to their homes. Superimposed in the top left and top right of the screen are images of each of them back at their jobs, conveying very effectively what is on their minds and the sadness they feel. In another scene, the two are back at home. It's nighttime, and we see a shot of their neighborhood in the city, a darkened sky filling the top of the screen. Suddenly, the darkness above the rooftops is a beach scene, and we see their silhouettes walk across, a beautiful image in the night sky.
"A Cut Above"
Although the film seems a cut above what we have been accustomed to seeing from this early period in cinema history, the acting is sometimes very obviously from the early to mid-teens. For example, in the restaurant, we have a charming, if not very original, scene in which Nellie begins ordering, at a snobby waiter's urging, several expensive items from the menu. Tom, shoulders stooped forward, turns slightly away from his date (toward the camera), pulls out his money, and begins counting it, supposedly very surreptitiously. All the while, his eyes are cutting back and forth, and, of course we are to believe that no one notices this. In fairness, it does effectively convey what's going on in Tom's mind without the use of titles and provides a little humor to the situation.
Without giving away the ending, the story comes to a logical conclusion with the fate of each character being within the realm of reason and providing a satisfactory closing for the viewer.
Both Taliaferro and Forman are difficult to find information on. Edith Taliaferro was the younger sister of Mabel Taliaferro, the slightly more prominent of the two sisters. Edith made only two more films, one in 1916 and one in 1919, after "Young Romance." She apparently preferred stage work to the movies, performing in various productions well into the 1930's. She died in 1958 in Newton, CT. Forman made his first film for Lasky in 1914. With the exception of service at the front during World War I, he had a successful career as both an actor and director (he directed Lon Chaney's "Shadows" in 1922) until 1926 when he committed suicide at age 33.
The DVD release of this film is on a double feature disc with "Regeneration" (1915) and has an excellent piano/violin score by Robert Israel. The video quality is very good. Although "Regeneration" is supposed to be like the "A" side of a 45 rpm record, this is one of those instances that used to come along every once in awhile back in the record collecting days when the "B" side may be the preferred choice.
---