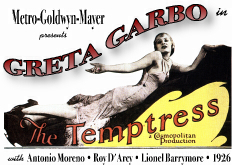 Production Company/Distributor: Metro-Goldwyn-Mayer
Cast: Greta Garbo (Elena), Antonio Moreno (Robledo), Roy D'Arcy (Manos Duros), Marc MacDermott (M. Fontenoy), Lionel Barrymore (Canterac), Virginia Browne Faire (Celinda), Armand Kaliz (Torre Blanca), Robert Anderson (Pirovani), Francis McDonald (Timoteo), Hector V. Sarno (Rojas)
SYNOPSIS
Elena and Robledo meet at a party in Paris and fall in love. They spend the entire night in the garden in each other's arms, but when it is time to leave, she refuses to tell her name - only that she belongs to no one else and will meet him again the next evening in the garden. When Robledo goes to visit his old friend, Torre Blanca, he finds that Elena is Blanca's wife. She begs Robledo to run away with her, but he is repulsed by her lying and unfaithfulness to her husband. At a party that evening given, the host, M. Fortenoy, kills himself after announcing his rebuked love for Elena. We learn that Blanca had been allowing his wife to be a mistress to Fortenoy in return for money. Robledo returns to him home in Argentina where the village gives him a hero's welcome and he is
surrounded by loyal, hardworking male friends who are working with him to build a dam for the region. Robledo's nemesis is an Argentine named Mano Duros who has stolen many of his horses (which Robledo can't prove) and enticed many of his men away from work on the dam. Matters are complicated when Blanca and Elena show up. Robledo is furious, but there is nothing he can do. Mano Duras is infatuated with Elena, and when he forces himself on Elena, Robledo and Duras duel with whips. Robledo wins, but Duras returns to shoot him and accidentally shoots Blanca instead. The men begin neglecting their work because of Elena, and one evening when they do not report to work to hold a fiesta in her honor, Mano Duras and his men blow up the dam. Also, two of Robledo's men, who are good friends, fight over Elena with one of them being killed. It is now up to Robledo to recover from all of these tragedies and determine his fate with Elena who continues to profess her love for him.
"The film draws the viewer in from the first scenes"
"The Temptress" was Garbo's second film for MGM and began principle photography on March 24, 1926, barely eight months after her arrival in the United States. At this time she was still uncomfortable with her English, but one would never know from watching her on the screen. Her acting in "The Temptress" is elegant, refined, filled with emotion yet subtle, and mesmerizing for the viewer. She also appears to be totally at ease in her role in spite of the personal crises that took place during the filming.
The film draws the viewer in from the first scenes. We see Elena, wearing a laced mask, in what appears to be a box at a theatre, however, there is a rousing party taking place on the floor. A man, also dressed for the costumed affair, comes in demanding, "I want your answer now." Elena replies, "Fortenoy, won't you understand - I do not love you - I never shall!" and she runs from the party, dodging revelers, bumping into couples, men grabbing at her. At the doorway, she runs directly into a man's arms - a man wearing a mask and a hooded cape. Outside, she is distraught and wishes to be alone. A large group of dancing revelers come up to her, encircle her and dance around as it taunting her. She feels smothered and wants to be left alone when, suddenly, the man in the hooded cape comes to her rescue. After ordering the revelers to leave, he removes his mask and asks her to remove hers. He smiles as if this is just another lark in a reckless night of gayety, but, when she removes the mask, his demeanor changes to one of awe at her beauty, and he is immediately enchanted by this woman. This first real view of Garbo in the film is excellently staged. She slowly removes the mask and looks up shyly, slowly raising her eyes, still with sadness on her face - but the beauty is exquisite. No wonder the man exclaims, "I must have you alone - I have so much to say to you. I've waited so long - just for you!"
"We have questions"
What an excellent beginning for a story - simple, but very engrossing. However, it's not just the attraction of a "love at first sight" kind of story. We have questions. Who was the man in the balcony at the party? What was their relationship? Subtle hints are also dropped as the story progresses.
After a night in the garden, Elena and Robledo must part company as the sun begins to rise, but he doesn't know her name - and she declines to tell him. However, she assures him she belongs to no other and agrees to meet him in the garden the next evening "and every night for so long as you may love me." Again, we have questions. Why does she decline her name? Why the assurance that she belongs to no other? Can we believe her? Within the first few minutes of the film, we are hooked and must see more!
The next day he visits his good friend, Blanca. However, when Blanco introduces his beautiful wife, it is Elena. The tenseness of this moment coupled with this surprise revelation provides one of several emotional "highs" in the story. Although Elena's earlier comments about belonging to no other causes us to at least raise an eyebrow, this revelation is totally unexpected - maybe because Armand Kaliz, who is cast in the role of Blanco, seems totally mismatched with Garbo's graceful beauty (we had earlier seen him flirting with and kissing the maid).
During the visit, Blanco gets an invitation to a party being given by Fortenoy for Elena. Considering Fortenoy's exchange with Elena at the party the night before, all we can assume is that they have had an affair that fizzled out. Blanco seems delighted at the invitation, but is he oblivious to the affair, and why wouldn't he question a party thrown in Elena's honor?
At the party, to which Robledo has also been invited, we see a very large number of people seated at an excessively long table. The length of the table and the number of people is emphasized by a tracking shot beginning with Fortenoy at the head and slowly pulled back down the length of the table making the viewer wonder how long this can go on until we reach the end. (No doubt this was a copy of Clarence Brown's famous table tracking shot in Rudolph Valentino's "The Eagle" the year before.) Couples are laughing, kissing - flirting is portrayed several times through shots under the table of a male and a female leg rubbing each other - toasts are being made, and there is gayety all around. However, there is one disturbing shot of a pair of hands pouring a powder into a champagne glass.
Marc MacDermott does a superb job of portraying the hopeless Fortenoy who, now that he has been spurned by the woman he loves, has decided to end it all. Distraught and with hand shaking so badly the champagne is spilling over the edge of the raised glass, he announces, "Back of every man's failure, there is a woman. I lift my glass to the lady - who has honored me." With everyone in shock, he falls forward onto the table, dead. The unidentified pair of hands with the powder was obviously Fortenoy taking poison.
"There are 'high' emotional moments"
Throughout the film, there are "high" emotional moments - the next day when Robledo stops by to tell Blanco he is leaving and begs him to take her away - when Elena and Blanco arrive unexpectedly in Argentina and unsettled Robledo's regimented and comfortable lifestyle, when Manos Duros and his men arrive one evening at Robledo's so Duros can serenade Elena, the duel with whips between Robledo and Duros, the dynamiting of the dam and the ensuing rains that result in a flood, and much more.
Much credit must be given to Roy D'Arcy's portrayal of Manos Duros who is a worthy nemesis for Robledo. D'Arcy made is mark in "The Merry Widow" (1925) as the irritating thorn in John Gilbert's side, Crown Prince Mirko. The fact that D'Arcy was a somewhat slight man indicates all the more his grand ability to be totally disgusting and menacing - in a sneaky way rather than an intimidating manner. In one scene, Robledo requests Duros' presence, and, when he arrives, we see a shadow on the doorway lighting a cigarette - providing a somewhat flippant, unhurried entrance that, although he did come when Robledo called, shows the visit is on his terms, not Robledo's. A credit to the title writing Marian Ainslee (with many commendable credits at MGM) is the verbal parrying of the two characters. When Robledo's patience wears thin, he finally charges, "I suggest that you take your men and get out of this country at once - or there will be bloodshed." The broad, sarcastic grin (that D'Arcy did so well) suddenly replaced by a look of anger on Duros' face, but slowly, the grin returns, and he casually leans forward to say, "Whose blood, Senor?" D'Arcy's villains were always well-played, quite different in personality from other villains in the silent drama, and he provides the viewer with the proper emotional responses to his character in "The Temptress," as well. The only shortcoming is D'Arcy's physique, or lack thereof, in the whip duel scene where he has taken off his shirt - nothing intimidating there.
" . . . the film was saved only by Garbo's preseence"
More than one reviewer has proclaimed that the film was saved only by Garbo's presence. Author John Bainbridge in his biography of the star (Garbo, Doubleday & Company, 1955) called the story "improbable" and Garbo's role "implausible." Biographer Barry Paris (Garbo, University of Minnesota Press, 1994) said the story is "a series of clichés." He added, "Niblo had no magic cure for the script, but he and cameraman Tony Gaudio at least made certain to film Garbo stunningly, much like Genthe's Vanity Fair photo then on the stands. Garbo did the rest herself, overcoming many of the story's absurdities with her ambiguous performance. That she succeeded at all was amazing in view of the final cut - or cuts."
However, it is the viewer's good fortune that every scene in which she appears is both a commendable display of acting and a visual delight as director Fred Niblo obviously realized the value of highlighting Garbo's beauty.
Throughout the film, we have seen camerawork that focusing on Garbo with close-ups and seductive looks that delight the male viewer, but one scene in particular seems to emphasize her beauty. Robledo has been in the rough wilds of Argentina for some time now, and a title tells us that "the memory of Paris and the Temptress grows fainter each day." A carriage (more of a stagecoach) pulls up, and Blanco disembarks looking very much out of place in his fine Parisian dress. Inside, Robledo embraces his friend exclaiming, "My friend, you have come to start over." Then Robledo looks out into the yard and sees the carriage door open blocking the view of the person behind it. However, we see a foot and an ankle reach down to the step, then another, and both step to the ground - the camera has not yet moved from the feet. Then, when this person, obviously a well dressed lady from the high heels and stockings, stands outside the carriage, the camera slowly, very slowly, moves upward. We see this person is very well-dressed, but also dressed in a fashion that is very much out of place in this desolate countryside. Finally, when the camera reaches the face, we see it is Elena - possibly more beautiful than she has been in any scene up to this point in the film. Possibly it has something to do with the lack of beauty in the surroundings which are dry and barren - the contrast is stunning. For whatever reason, the camerawork and direction are very effective, and Garbo's beauty is once again used to the story's advantage.
"Ibanez' stories are mostly soap operas in exotic locales"
Vicente Blasco Ibanez' stories are mostly soap operas in exotic locales, however, they do portray the human condition well, but in a somewhat melodramatic way. Garbo's previous film, "The Torrent" (1925) was also an Ibanez story, but the author's immortality was solidified when Rex Ingram filmed "The Four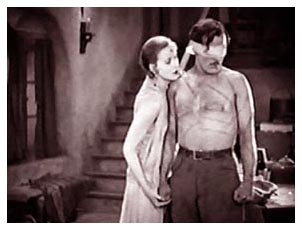 Horsemen of the Apocalypse" in 1921. In addition to the two Garbo films, other Ibanez stories that were filmed during the silent era were "Mare Nostrum" (1926) and "Blood and Sand" (1922). None of the others were as good as "Four Horsemen," but his stories carried enough emotion, lost love, exotic locales, sex, and death to keep audiences interested.
There was nearly as much drama behind the camera as before it at least during the beginning stages of the filming. Much to Garbo's delight, her mentor Mauritz Stiller was assigned the job of directing "The Temptress." "Trouble started brewing the minute Stiller stepped on the set," Bainbridge said in his book. "In practially no time Stiller succeeded in antagonizing Antonio Moreno. Since Stiller felt that the hero of 'The Temptress' should be clean-shaven, he ordered Moreno to get rid of his mustache. This ruffled the sensibilities of the swarthy Prince Charming, and an angry scene ensued. . . Whenever a scene between the hero and Garbo failed to please Stiller, he laid the blame on Moreno. A star, and accustomed to being handled like one, Moreno bitterly resented this treatment."
According to Paris' biography, "He had aggravated the studio on several counts, but he still might have survived at MGM - had he not now run afoul of Garbo's new co-star, Antonio Moreno. . . Moreno's bitter complaints to Thalberg, plus mounting concern about Stiller's slow, expensive 'European' production methods, sealed the director's removal from the project after just ten days on the job.
"All of this confusion could have been dealt with if Stiller had taken to heart the lessons presented to him," biograher Karen Swenson said (Greta Garbo: A Life Apart, Scribner, 1997). "His colleagues Victor Sjostrom and Benjamionm Shristensen had won the studio's respect and approval because they consistently delivered productions on time and on budget." She added that "Thalberg tried to talk to Stiller and encourage him to work withini their structure; the director did not appreciate the interference. He made the mistake of thinking it was his film - but it was their money and their film."
Stiller was fired and replaced with Niblo which not only had a devastating effect on the director, but Garbo as well. "We understood each other so well. I was sure I would be more relaxed and a better actress with him," said Garbo. Stiller temporarily went into a depression, but was revived about a month later when his services were requested by Paramount to help direct "Hotel Imperial" with Pola Negri, much to MGM's delight since they had the director under contract and didn't know what to do with him.
" . . . concerned they had another Von Stroheim on their hands"
Another crushing blow that came to Garbo during filming on April 21 was the death of her sister Alva at 22 years of age who was on the verge of a great film career in Sweden. According to Swenson, Thalberg took advantage of the temporary shut down in filming to assess the seemingly out-of-hand situation concerning the filming of "The Temptress." He and Mayer were apparently concerned they had another von Stroheim on their hands who would run the project in the red as a result of his unconventional (at least for MGM) directing style.
Paris' and Bainbridge's biographies both claim Stiller was fired barely 10 days into production when he was fired. If filming began March 24, that would make Stiller's removal within the first few days of April. Swenson's biography says Stiller was on the job for four weeks or more. If, as it is reported, Stiller was the one who informed Garbo on the set of her sister's death, and her sister died April 21, it would seem Swenson is correct that Stiller spent a month or more on the job.
Regardless of the time he spent with the filming, everything he filmed was apparently scrapped so that the film we see today is entirely Niblo's. There are stills that exist from Stiller's direction showing scenes not in the movie. It is interesting to note in these stills that Moreno does not have a mustache indicating Stiller must have gotten his way with the star. However, Niblo allowed the mustache which Moreno sports in the finished movie.
"The Temptress" premiered at the Capitol Theatre in New York on October 10, 1926. Stiller and Garbo were in attendance, but Stiller openly expressed his disgust at the finished product. Virtually all contemporary and subsequent writings about the movie state that the movie was a box office success, mainly thanks to Garbo's appeal. However, Paris claims in his biography that the studio let everyone believe that "The Temptress" was a box office success, when, actually it was a failure losing $43,000, and would have been more had it not been for European sales. MGM realized Stiller and the long production schedule of 83 days was at fault and not Garbo. "Accordingly, the studio took a big gamble on its Temptress' future: By declaration instead of acclamation, and with
the unwitting aid of the press, MGM simply proclaimed her a great new star," he said.
"It is no doubt . . . the reviewers were taken with Garbo"
It is no doubt the reviewers, as well as the public, were so taken with Garbo that the quality of the story could be allowed some shortcomings. Critic Robert Sherwood is a good example. In Life magazine, he gushed, "I want to go on record as saying that Greta Garbo in 'The Temptress' knocked me for a loop. I had seen Miss Garbo once before, in 'The Torrent,' and had been mildly impressed by her visual effectiveness. In 'The Temptress,' however, this effectiveness proves positively devastating. She may not be the best actress on the screen - I am powerless to formulate an opinion on her dramatic technique - but there is no room for an argument as to the efficacy of her allure . . . 'The Temptress' is a lavish, luxurious picture, with all known forms of audience appeal. It would, however, be pretty dreadful were it not for the individual and unassisted efforts of Greta Garbo, who qualifies herewith as the official Dream Princess of the Silent Drama Department of Life."
Variety said the movie was "sumptuously produced," and "The screening is one unbroken succession of pictorial surprises in beauty. The settings are onelong revel of loveliness. No better handling of background and composition has been seen this or any other season." The reviewer was as taken with Garbo's portrayal, though. "Greta Garbo does not make the woman of sinister passion created by Ibanez. She is scarcely the screen type of aggressive vitality the character demands. Rather she might play the more anemic type such as call s for dainty shading."
In a surprising expression of positivity instead of negativity, The New York Times reviewer said, "Miss Garbo is not only remarkably well suited to the role but with a restraint in her expressions she makes every scene in which she appears a telling one. She is attractive and svelte of figure and gives an emphatically effective impersonation of Elena's heartlessness."
Author Jerry Vermilye (The Films of the Twenties, The Citadel Press, 1985) gives an insightful reflection the Garbo and the film. "'The Temptress,' of course, owes most of its success to the magic of Garbo. Few actresses of her era could sustain the thesis of the movie's title so convincingly and yet with such passive allure. For the most part, Garbo's Elena is a heroine more used by than using of the men she encounters. For her, men fight, kill and commit suicide. And Garbo persuades her audience to accept and believe it all.
"After moving through most of 'The Temptress' as a beautiful clotheshorse seemingly unable to control her devastating effect on the male sex, Garbo's fascinating Elena, in the movie's final tragic scenes, offers an utterly unforgettable portrait of hopeless degradation, dispelling any possible doubts as to the depths of her innate talents as an actress."
The print reviewed is from Turner Classic Movies and is enhanced by an exceptional orchestral score by Michael Picton, very fitting to not only the emotion of each scene, but also fitting to the changing locales as the story moves from Paris to Argentina and back again. The original opening and intertitles are there, and the pictorial quality is excellent.

Copyright © 2005, by Tim Lussier. All rights reserved.
---