Book Review
Stardust and Shadows: Canadians in Early Hollywood
by Charles Foster
published by Dundurn Press, copyright 2000
The three and a half page prologue is almost worth the price of the book alone. Foster recounts a visit to Hollywood while on leave during World War II. Through an introduction to Canadian and silent movie director Sidney Olcott, his 19 days of leave turned into the stuff we can only dream of. He was taken to Pickfair to meet Mary Pickford, was escorted throughout the entire MGM studio by none other than Louis B. Mayer himself, was served tea by Norma Shearer, was introduced to even more people in the industry by Mack Sennett, and even had a party thrown in his honor which was attended by a host of major stars such as Fay Wray, Walter Pidgeon, Deanna Durbin, Jack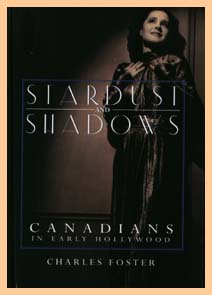 Warner, Fifi D'Orsay and more ­ and every one of these cinema legends is a native of Canada!
This was the beginning of Foster's interest in Canadians who made their mark in Hollywood, and over the next 50 years he collected all the information he could on them ­ enough to fill 500 volumes ­ and also talked to more than 500 veterans of the early days in Hollywood.
The book is made up of 16 chapters, each an individual mini-biography of some of the greatest talents to come along in the first 30 years of the cinema, and all natives of Canada ­ May Irwin, Al and Charles Christie, Joe and Sam De Grasse, Marie Dressler, Allan Dwan, Florence La Badie, Florence Lawrence, Del Lord, Louis B. Mayer, Sidney Olcott, Jack Pickford, Mary Pickford, Marie Prevost, Mack Sennett, Douglas Shearer and Norma Shearer.
Foster quotes extensively from interviews of the stars that he has collected over the years, and through these, coupled with additional research, he gives an entertaining and well-written insight into the lives of 18 silent movie greats. Of course, the life stories of those such as Mary Pickford and Mack Sennett have been well-documented in biographies and autobiographies before, but this may be the best available account of the lives of such lesser-documented personalities as Marie Prevost, Joe and Sam De Grasse, Del Lord, Al and Charles Christie and others.
However, all of the chapters are entertaining and worth reading. Even the lives that have been well-documented are given a fresh look by Foster with some tidbits of information that the reader may not have known about already. For example, did you know there was a secret dentist's office in the basement of Pickfair that even Mary Pickford didn't know about until many years after Douglas Fairbanks' death? Also, you may be very surprised to read in this book who actually admitted to murdering director William Desmond Taylor 58 years after this scandalous event took place which ruined the careers of both Mary Miles Minter and Mabel Normand.
In a few minor instances, the book stumbles. Foster quotes an older interview with Al Christie who says Syd Chaplin and Charles Ruggles were co-starred in the 1930 version of "Charley's Aunt." Actually this was all Ruggles' film as Chaplin was starred in the 1925 silent version. To confuse matters more, Christie says Ruggles and Chaplin were co-starred in five more films together which isn't so. In the chapter on Marie Dressler, Foster refers to "Tillie's Punctured Romance" as "one of the great classics of the 1920's." The film was actually made in 1914.
This is small fault to find with such a wonderful book, though. Foster has done a wonderful job of documenting the lives of some of the personalities of the silent era who may otherwise have just as easily disappeared into obscurity. This is a quality hardback, and the photos are excellently reproduced. Get it for your silent movie library.
The author: Foster is actually a native of Cheshire, England, and worked behind the scenes in several theatres before volunteering for the Royal Air Force in 1941. After the war, he became a publicist for a number of show business personalities including Richard Burton, Errol Flynn, Marilyn Monroe and Joan Crawford. He has also written for Bob Hope, Red Skelton and Jack Benny. He is retired and lives in Riverview, New Brunswick.
Stardust and Shadows: Canadians in Early Hollywood
By Charles Foster
ISBN 1-55002-348-9
408 pages with photos
$29.99 retail (cloth)
available from:

Return to "Recommended Reading" page