Hollywood, Colorado
"Book and Video Document This Near-Miss at Motion Picture Immortality"
by Tim Lussier
Hollywood, Colorado.
Is there any such place? Well, no, but Cañon City came close to becoming Colorado's equivalent to Hollywood in the early days of movie-making, and a video entitled "Hollywood, Colorado" and a companion book of the same name do an excellent job of documenting this near-miss at motion picture immortality.
The Book
The 80-page paperback book, whose complete title is "Hollywood Colorado - The Selig Polyscope Company and the Colorado Motion Picture Company," is by David Emrich, a film and video editor in Denver. Emrich began his research into Colorado film history in 1982, and 15 years later his efforts culminated in this fine, informative, and entertaining slice of little-known cinema history.
Although historians seem to imply that western movie-making took a broad leap from Fort Lee, N.J., to Hollywood, Ca.,
there were years in between when filmmakers were looking for the right scenery and lots of sunshine - Colorado fit the bill.
The first films shot in Colorado, according to Emrich, were in 1897 by the Edison Company. James H. White, a representative of the Edison company, spent time in New Mexico and Arizona, as well as Colorado, making short films of local scenes that were two minutes or less in length.
Next, Emrich introduces us to H.H. "Buck" Buckwalter, a western agent for the Selig-Polyscope Company of Chicago who made short films in Colorado from 1904 to 1909, some of which starred Gilbert M. Anderson before his "Bronco Billy" days.
Another Selig troupe arrived in 1911 with future cowboy star Tom Mix as a leading man. Emrich gives an absorbing account of this period seasoned with film synopses from Selig publicity, anecdotal accounts of daily movie-making from local newspapers and reminisces of life after hours for Mix and his fellow actors. For example, we are told stories that have been passed down over the years about Mix that include how he and his buddies would shoot lemons off the glasses in the local bar to see who would buy drinks and the night Mix hid in the awning of the Elk's Club so his angry wife could not find her errant husband.
Emrich also holds the reader's interest with accounts of how Mix and others in his troupe risked their lives to make these movies. It was noted that Mix had more than one stay in the local hospital during this period of his career. Alas, Mix was to move on to bigger and better things, and the Selig company soon left Colorado for the promise of 300 days of sunshine and a wider variety of scenery in California.
The most intriguing and promising venture for the state's motion picture industry was the formation of the Colorado Motion Picture Company in 1913 by former Selig employee Otis Thayer. He chose Cañon City because of its scenery, and the support of the community was quickly made evident with the sale of $5,000 in stock on the first day of the company's existence. Emrich takes us on a nostalgic journey through each of the films made by the company in 1913 and 1914, letting the reader get to know the stars, recounting the difficulties and hardships they experienced in the making of these movies, how they were embraced by the local townsfolk, etc.
The most tragic event in the company's brief history, which is recounted by Emrich, involved the drowning deaths of star Grace McHugh and cameraman Owen Carter during a river-crossing scene in "Across the Border" (1914). Emrich has lovingly dedicated the book to McHugh and Carter.
Even though the Colorado Motion Picture Company dissolved in 1914, Emrich gives a brief overview of the sporadic movie-making that took place in the state for the remainder of the silent era, highlighted by Mix's return to Colorado in 1926 to film scenes for his feature "The Great K&A Train Robbery."
The Video
The video "Hollywood, Colorado" includes a 15-minute Selig short from 1912 entitled "Buck's Romance," a 13-minute Selig short from 1913 entitled "A Matrimonial Deluge," and the only surviving film of the Colorado Motion Picture Company, the three-reeler "Pirates of the Plains" from 1914.
"Buck's Romance" stars William Duncan and Myrtle Stedman and is the story of a cowboy who wins an Indian maiden. The maiden turns out to be a nuisance by popping up wherever he goes, but the cowboys' wife soon takes care of that.
"A Matrimonial Deluge" also stars Duncan and Stedman and concerns a group of cowpokes lining up a selection of potential brides for their buddy, Dan, until Dan's sweetheart finds out.
Both are mildly entertaining and serve as good examples of the type of films made during that period.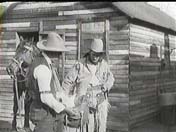 Of considerably more interest is "Pirates of the Plains." This film was discovered in 1993 by Professor George Hall of Tuscon, Arizona, who co-produced the "Hollywood, Colorado"video with Emrich. It was discovered in a trunk of an itinerant movie show operator named Frank Bishop of Antigo, Wisconsin. Hall provides the musical accompaniment to all three films using ragtime and incidental music originally written to accompany nickelodeon-era silent movies. The music is both appropriate and enjoyable. Hall also introduces each of the films giving brief background information on them.
"Pirates of the Plains" stars Bud Chase, Joe Ryan and Josephine West and is about two brothers, one bad and one good. The good brother, Jim, is wrongly accused of a murder committed by his brother. He is sentenced to hang, and, at the very last minute, his girlfriend, Nell, saves the day.
Between the book and the video, the silent film buff gets a nice little package outlining a charming and intriguing part of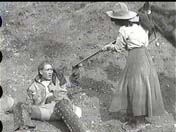 cinema history. Emrich does a fine job writing about this period, and his affection for these movie pioneers is evident. He tells the story with a personal touch highlighting locals who took part in the filmmaking, landmarks and sites that would be recognizable to today's residents, and emphasizing the appropriateness of the Colorado terrain for these westerns. He rightly points out that the early years of this century were a transition period for the old west. In 1913-1914, the old west wasn't completely gone, and these films reflect an authenticity that films ten years later couldn't duplicate.
The silent era effectively ended almost 70 years ago, and only a few remain today who were a part of that time. Adding anything new to the existing history of this period is becoming more difficult with each passing day.
Emrich, along with Hall, not only deserves credit for researching this little-known niche in cinema history, but for sharing it with others through the production of this delightful videotape and the publication of an enlightening and thoroughly enjoyable book. Anyone serious about their silent film history, and most especially those who love their silent westerns, should get a copy of this video and book, and then you'll understand why there almost was a "Hollywood, Colorado."
Ordering Info
The paperback book, which includes over 40 photos, is $9.95, and the video is $19.95. They can be ordered from Post Modern Company, 940 Wadsworth Blvd., Lakewood, CO. 80215. Postage is $2.50 regardless of quantity ordered.
Copyright 1998 by Tim Lussier. All rights reserved.
Return to Articles and Essays page