The home of
Clara Bow
Beverly Hills, CA.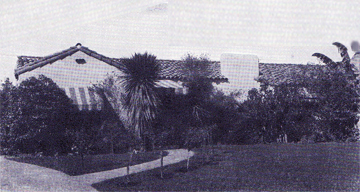 From Photoplay magazine - September 1929
"The house itself is one-story Spanish adobe effect, set far back on a broad lawn, and the path to the front door is lined with standard rose trees. The door, however, has a Chinesian aspect. . . Clara has purchased a comparatively modest little home in Beverly Hills - quite big enough for a bachelor-girl establishment, but no mansion. Seven rooms, and not very big rooms. Original too, in that she has not gone in for 18th Century interior decoration no Napoleonic splendor but just bought to suit herself. Her taste runs considerably to Chinese, to be sure, but she hasn't been arbitrary about it.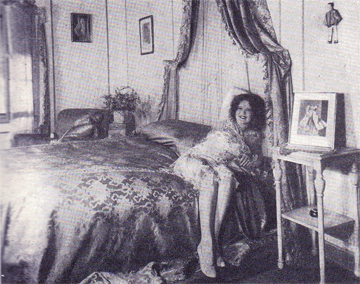 "There is a Frenchy touch about Clara's own bedroom - old rose rug, with canopied curtains of a deeper rose, the canopy effect also gracing the head of the bed. The bed was specially made and cost $250. The dressers, chest of drawers, chiffonier, bench, etc., are of ivory enamel. An autographed portrait of Valentino as The Sheik stands beside Clara's bed. Floor lamps, nigh stands, an ottoman, bead flowers, more dolls, saucy telephone stand, Old French prints on the wall, give this room a rather crowded effect."
"We mustn't forget the Chinese room, which is Clara's joy. Only a little room, but perfect in every detail. Lovely Chinese rugs, a huge, low, specially made couch, cushioned in red and gold damask; cushions galore in red and black; Chinese cabinets and lamps; red and gold curtains; a lacquer Shi-Shi with electric eyes; large, grotesque lacquer gods and dragons. Tea sets, plaques, brassware, embroideries . . . here they play bridge, or just talk and smoke. There are photographs of Buddy Rogers and Tom Mix in this room."
---
Return to "Homes of the Stars" page