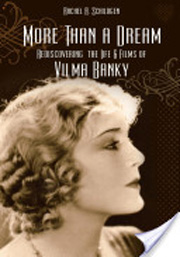 Recommended Reading
"Vilma Banky: More Than a Dream"
by Rachel A. Schildgen
(1921 PVC Publishing, 2011, 338 pages)
Vilma Banky lived in reclusive obscurity for many years - and, in accordance with her wishes, her death in 1991 was kept quiet, a public acknowledgement coming over a year and a half later. This gives some insight into the enigmatic personality of this superstar of the silents who, when her film career ended, could have cared less about the cinema legacy she had left. As biographer Rachel A. Schildgen says in her superb biography "More Than a Dream: Rediscovering the Life and Films of Vilma Banky, " . . . she viewed her films with disdain, unsure if they had any value in the long run." Such a life presents a challenge for a biographer, but Schildgen has put together a loving tribute to this beautiful star who shared the screen with Valentino in two of his best pictures - "The Eagle" (1925) and "The Son of the Sheik" (1926), and as half of one of the most popular romantic teams of the silent era with Ronald Colman in "The Dark Angel" (1925), "The Winning of Barbara Worth" (1926), "The Night of Love" (1927), "The Magic Flame" (1927), and "Two Lovers" (1928). Schildgen has uncovered fascinating details of her early life in Hungary during one of the country's most tumultuous times (including World War I), her discovery by a Hungarian movie director while working as a stenographer in Budapest, her film career in Hungary, Austria and Hungary, and her second "discovery" by Samuel Goldwyn in 1925 who brought her to America. Schildgen gives us fresh behind the scenes details about some of her most popular films such as "Son of the Sheik" ("I am grabbed this way and that. I am all black and blue," she complained of the way Valentino handled her for the scenes) or "The Winning of Barbara Worth" (her expert horsemanship, learned at an early age, served her well on this film). Of course, the story would not be complete without a telling of one of the greatest Hollywood love affairs of all time - Vilma Banky and Rod LaRoque. From their meeting at a party in December 1925 at Cecil B. DeMille's home, through surreptitious rendezvous that had to be kept secret from Goldwyn, to their storybook marriage in 1927 - a marriage that lasted 42 years without a hint of scandal. "More Than a Dream: Rediscovering the Life & Films of Vilma Banky" is a worthy tribute to one of the silent era's greatest beauties and most talented actresses - and Schildgen, a polished writer whose well-researched and entertainingly composed narrative is a delightful excursion into movie history, deserves much praise for documenting a heretofore overlooked cinema legend.
Copyright 2011 by Tim Lussier. All rights reserved.
---
Purchase this book from

Just click on the link above and type in the author's name
or the book title in Amazon's search field.
---