Recommended Reading
"Mary Pickford: Queen of the Movies"
Edited by Christel Schmidt
(The University Press of Kentucky - 2012 - 288 pages)
When I saw the announcements for "Mary Pickford: Queen of the Movies," I thought, "Another coffee table picture book." I couldn't see how anything could improve on Kevin Brownlow's "Mary Pickford Rediscovered" (Harry N. Abrams, 1999) which has absolutely fabulous photos and great commentary on each of Pickford's films. So, when Christel Schmidt stopped in Raleigh, NC, on her tour with the book and a screening of "Dorothy Vernon of Haddon Hall" (1924), I couldn't resist purchasing it - and how glad I am that I did!
So what did I find that drew me so completely into this publication?
Mary Pickford was the first great star, and as historian Robert Cushman states without exaggeration, "the most popular, powerful, prominent and influential woman in the history of cinema."
Critic Molly Haskell states in the book's introduction, "Anyone who has seen more than one of the major Pickford films knows that she was a great deal more than a cuddly little girl in pinafores." So true, and this book provides evidence that Pickford was oh, so much more!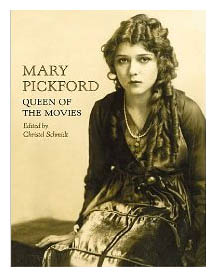 In "The Natural," Eileen Whitfield praises Pickford for her vision of what film acting should look like, a style very contrary to the Delsarte method of broad histrionics that was so popular at the turn of the century. "One has only to watch her spontaneous Tess ("Tess of the Storm Country - 1914) to see the soul of modern acting in the first great performance of feature film."
In "Childhood Revisited," Whitfield attempts to quash the decades-old perception that the majority of Pickford's roles were children - while also praising her brilliant characterizations in the films in which she did portray children.
Especially taken in the context of the times, it is nothing short of extraordinary that, by the age of 24, Mary Pickford was not only the most popular female movie star in the world, she was running her own production company - and with great success! Kevin Brownlow's "Passionate Producer" elucidates just how effective Pickford was as a businesswoman - and her successful dealings with some of the most powerful men in the industry such as Adolph Zukor, Cecil B. DeMille, Jesse Lasky, a variety of directors who bent to her will, and others.
"Father of the Family" by Schmidt is a bittersweet journey through Pickford's family life, the loss of her mother, the difficulty of her brother and sister - and all the while managing to be what was possibly the world's most successful businesswoman at the time.
Schmidt also gives us a personal glimpse into the marriage of Pickford and Douglas Fairbanks, a marriage that was built on friendship and mutual respect. To Fairbanks' credit, most men of the time would have been "overwhelmed" at being married to someone of Pickford's stature (as Schmidt points out); however, they saw each other as equals (by the way, the photos of the two together are touching).
Alison Trope shows us a side to Pickford of which most are not aware. "Little Mary: Formidable Philanthropist" describes a compassionate individual who sold Liberty Bonds, visited soldiers in the hospital, visited military camps, gave to the Orphan Asylum, helped found the Motion Picture Relief Fund and was a pioneer in film preservation.
Edward Wagenknecht is well-known to silent movie fans as one who was actually there during the silent era and remembers seeing Mary Pickford as a young boy. His reminisces are not only nostalgic but insightful regarding what it was like to be a movie fan during those heady days.
Some may be delighted, while others may give forth a yawn (probably you guys out there), at the thought of reading about the clothes Pickford wore in her movies, but there is much to hold the reader's interest in Schmidt's "Dressing the Part" by Beth Werling - a piece that highlights not only the gorgeous, elaborate gowns Pickford wore in movies such as "Dorothy Vernon of Haddon Hall" (1924) but the tattered outfits she wore in such films as "Tess of the Storm Country" (1922). The reader will enjoy the great photos of some of these costumes which are preserved for posterity at the Natural History Museum of Los Angeles County.
"American Idol," also by Schmidt, covers Pickford's work to support the war effort in the late 'teens and her incredible success at bond sales.
Pickford biographer Eileen Whitfield once again serves forth with some perceptive observations regarding the appeal of the star in "Laws of Attraction: Mary Pickford, Movies, and the Evolution of Fame." As Whitfield asserts, "In the history of film, no performer (or married couple) has approached this level of celebrity influence and goodwill."
Can you write a whole chapter about someone's hair? You bet, and it's interesting reading! In Schmidt's "Crown of Glory: The Rise and Fall of the Mary Pickford Curls," she explains the iconic status of those golden ringlets for millions of fans for so many years - weaving in an understanding of style in the 'teens and twenties and the major influence Pickford had on those styles. However, as the twenties wore on, there was no stopping the "modern" girl and, most importantly, the bob that was being popularized by other, younger stars - and Pickford, too, had to bow to changing times. By the way, did you know that Pickford donated her curls to the Natural History Museum of Los Angeles County in 1928 when they were shorn for her famous bob?
Likely the least intriguing of the chapters is Elizabeth Binggeli's "Blood and Sympathy: Race and the Films of Mary Pickford." "It would be easy enough to argue that as her star ascended, audiences wanted Pickford to look like Pickford," Binggeli writes. "But this answer only begs the question: whatever her natural skin tone, why did 'looking like Pickford' after 1916 mean looking indisputably white?" Such "profound" thought will be lost on the reader since the answer seems obvious - Pickford's portrayal of Indians, Mexicans, Orientals and others essentially corresponds to a time in her career when her productions were managed by others. As her control grew (use 1916 as a turning point, if you wish), Pickford rightly saw the roles that suited her and were popular with her public - and that accounts for the portrayals in subsequent years - an unworthy entry in an otherwise superb book.
The ever venerable James Card gives just praise to the star in "The Films of Mary Pickford, and Pickford's part in film preservation is further explored in Schmidt's "Mary Pickford and the Archival Film Movement."
Almost included as addendums are "The Mary Pickford Film Collection at the Library of Congress" by Schmidt, "The Mary Pickford Costume and Ephemera Collection at the Natural History Museum of Los Angles County" by Beth Werling and a very absorbing personal recollection by the late Robert Cushman of how he convinced Mary Pickford to donate her photo library to the Academy of Motion Picture Arts and Sciences' Margaret Herrick Library - the reader will also enjoy reading about his trip to Pickfair to rummage through boxes of photos and his discoveries there.
My trip to Raleigh that evening was a sheer delight. "Dorothy Vernon of Haddon Hall" is a worthy entry into the Pickford legacy, and I felt as if I'd met a celebrity talking to Christel Schmidt. She a savvy and knowledgeable Pickford historian. Her enthusiasm for the star is evident when she speaks, and she keeps her audience mesmerized with her anecdotes. This enthusiasm also comes through in Schmidt's chapters in the book which are all required reading. Of course, I quickly saw why "Mary Pickford: Queen of the Movies" was published and why it should be in every silent film fan's library. It is actually a perfect complement to Brownlow's book. The two together tell a story of a star - and I mean a true star in the most stellar sense of the word - and it's a story that is heartwarming, uplifting, intriguing, enchanting, fascinating and entertaining. Pickford deserves a book such as this - her legacy demands it.

Copyright 2013 by Tim Lussier. All rights reserved.
---
Purchase this book from

Just click on the link above and type in the author's name
or the book title in Amazon's search field.
---