Recommended Reading
"Olive Borden: The Life and Films of Hollywood's "Joy Girl""
by Michelle Vogel (McFarland Publishers, Inc., 223 pages)
Unfortunately, there's not a happy ending to this story. For anyone who's seen "3 Bad Men" (1926), "Fig Leaves" (1926) or any of Olive Borden's films from the last half dozen years of the silent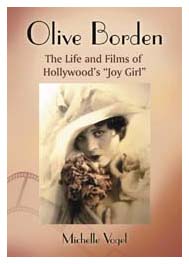 era, it's difficult to imagine that such a beautiful, vivacious, captivating screen personality didn't go on to a long and happy career in the film industry - but, this kind of Hollywood story is all too common. Fortunately, the focus of Michelle Vogel's fine biography - "Olive Borden: The Life and Films of Hollywood's Joy Girl" - is not a lurid, melodramatic account of the young beauty's life and career, nor does it dwell on her misfortunes. Instead, we are privy to heretofore obscure insights into the excitement and promise of a rising young star, her engaging personality that won so many hearts not only on screen but off-screen, as well - and her beauty that rivaled the best the screen had to offer. She was a Southern girl, born in Virginia, but with a "bug" to become an actress. As we see in so many of these stories, the father is absent from the picture, and the young girl comes to Hollywood with her stage mother. Vogel makes it clear, however, that although Olive's mother, Sibby, was a strong influence in her life, it was Olive who made the decisions - and ultimately decisions that were ruinous for her career. Not surprisingly, her beauty won her a part in a Christie Comedy soon after arriving in Hollywood. Vogel does an excellent job of documenting her earliest work in Christie and Hal Roach comedies (when you finish reading the biography, you'll be no less engrossed in Vogel's research, tidbits and narrative on each of Olive's films in the back of the book). She was a WAMPAS Baby Star which brought her the notice of Paul Bern (famous for dying - most commonly believed to be by suicide - while married to Jean Harlow) who got her a part in a Leatrice Joy feature in 1925. Supporting roles continued, and she even gained notice in a couple of Tom Mix westerns, but it was when Fox picked her up in 1926 giving her the lead in "Yellow Fingers" and subsequently "3 Bad Men" that her career took off. Fox handled her well making Olive Borden (her real name, by the way) one of the most popular stars of the second half of the 1920's and making astute use of her good looks - her gorgeous figure amply displayed in films such as "Fig Leaves." Vogel documents the beginning of Olive's decline - her ongoing love affair with George O'Brien (her co-star in "3 Bad Men" and "Fig Leaves") strained when he was picked for the mega-hit "Sunrise" (1927) and she wasn't - the resulting resentment at Fox for the lost opportunity - and the eventual walk-out when Fox said they were cutting her salary, something that most stars were having to endure with the coming of sound. From newspaper, magazine accounts and other research, as well as the memories of Ralph Graves Jr. who remembered Olive well, Vogel reconstructs the slow but steady decline as Olive continued in low budget films in the 1930's, some stage work, two failed marriages, and then, after her final film in 1934, into relative obscurity. Fighting alcoholism for many years, she did serve as a WAAC for a short time during World War II, but eventually turned up at the Sunshine Mission in Los Angeles where she was a housekeeper, dishwasher and cleaner of bathroom floors. Her mother was the superintendent at the mission and was by Olive's side when the alcoholism finally took its toll - and she passed away at age 41 in 1947. Vogel's narrative is engrossing, detailed, factual and written with an obvious affinity and admiration for her subject. The background information in the filmography is a book in itself and a tribute to Vogel's quality research - and the rare photos are a treat. Read the book, and you'll immediately want to sit down and watch this beauty when she was in her prime and one of the brightest stars on the screen.
---
Purchase this book from

Just click on the link above and type in the author's name
or the book title in Amazon's search field.
---