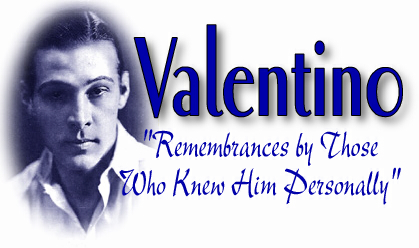 Edited by Tim Lussier
Rudolph Valentino has been gone for over 70 years.
His life was brief, 31 years, and the first 18 of those were spent in Italy, a particularly cloudy time for biographers. From his first bit part in a movie ("Alimony," 1917) to his final screen appearance ("Son of the Sheik," 1926) was only a blink in time of nine years.
In spite of the wealth of publicity for the last six or seven years he was alive, a life such as his offers problems for film historians and fans alike who want to know more about the real Valentino as opposed to the screen image he made so famous. Fortunately, many of those who knew him during those years in Hollywood have passed on their thoughts and memories about the Great Lover giving an insightful look into the man and his personality.
Lillian Gish
"Dorothy (Gish) has an instinct for picking potential stars. She discovered another young man, slender and dark-haired, and had him cast as a gigolo in one of her pictures, 'Out of Luck' . . .
"While Dorothy was making this film, Mr. (D.W.) Griffith was rehearsing a Western called 'Scarlet Days' about a Mexican bandit at the time of the Gold Rush. Dorothy thought her discovery would make a better Latin than Richard Barthelmess, who was to play the lead. When she expressed her opinion to Mr. Griffith, he shook his head. 'I agree with you, Dorothy. But women are apt to find him too foreign-looking.'
"Dorothy couldn't use the young man again because he took so long to dress, and her pictures had to be turned out quickly. But, Rudolph Valentino went on to play the lead in 'The Four Horsemen of the Apocalypse' and became the idol of women everywhere.
"'Well, I was wrong in that,' Mr. Griffith admitted to me. 'Now they apparently like these foreign fellows. I thought they only liked the American type. Maybe they're changing.'
"When we knew him, Valentino was simple, unpretentious, very much the Italian gentleman. Bobby Harron brought him into the group because he was shy and a newcomer. Dorothy, Bobby, Rudolph, and I, along with other friends, would go riding together. Rudolph rode well; his two great loves were horses and dancing. He had many talents; he designed riding clothes for Dorothy and me, and he was a good cook. Often on our return from an evening canter, he would go into our kitchen and cook spaghetti for us." (The Movies, Mr. Griffith and Me by Lillian Gish, Grosset & Dunlap, Inc., 1969)
Dorothy Gish
"Rudy was a wonderful man, really, Very quiet. We were going horseback riding in the evenings, up and around the place, and he took me to a tailor's and had my things made for me, my riding outfit. He used to call up at home and ask to come over. You know, women used to chase him. It was awful. They were always running after him. But he loved to come and visit, and there was usually cooking going on. Mother was a good cook, and they got together and cooked things up, and he made spaghetti which was so good." (People Will Talk by John Kobal, Alfred A. Knopf, 1985)
Mary Pickford
"I never saw Douglas act so fast and with such painful rudeness as he did in showing Valentino that he wasn't welcome." Pickford commenting on husband Douglas Fairbanks' jealousy. (Pickford: The Woman Who Made Hollywood by Eileen Whitfield, The University Press of Kentucky, 1997)
Commenting on a visit Valentino made to the set of "Little Annie Rooney." "Until he walked in, I was twelve years old. When he came in, I was Annie. After his visit, I was Mary, not Annie. I walked up and down outside in agony. I never got it back." (Mary Pickford - America's Sweetheart, by Scott Eyman, Donald I. Fine, Inc., 1990)
Gloria Swanson
"I had met Rudolph Valentino in January, nine months earlier (prior to their pairing in 'Beyond the Rocks' in 1922), right after the studio had made me a star. The second time I went to the stable to get my new horse, he was there. He smiled and called me Mrs. Somborn (Swanson's married name at the time), and I recognized him as the good-looking Italian in 'Eyes of Youth' . . .
". . . we frequently rode together in the Hollywood hills on Sunday mornings, not as a regular thing, but more often than not. Each of us knew the other would be there if one of us felt like having company.
"Friendly, but not outgoing at first, Rudy spoke with a delicious accent, and he was an excellent horseman. We would ride for an hour and then sit on the cliffs overlooking Hollywood and Los Angeles and talk.
". . . I trusted Rudy, and we discussed our problems. . .
"Gradually, we confessed that we were both miserably married, Rudy to an actress named Jean Acker and I to Herbert (Somborn). We were never romantically attracted to each other, except on the surface, as nice to look at; rather, we were friends, professionals, two people with a lot in common. He was worried about his career, although he had hopes for a Rex Ingram film he was working on at Metro. . . We comforted each other and soon came to look forward to our Sunday rides." (Swanson on Swanson: An Autobiography by Gloria Swanson, Random House, 1980)
Charlie Chaplin
"A young man used to sit around the lounge (of the Los Angeles Athletic Club) - a lonely fellow named Valentino who had come to Hollywood to try his luck but was not doing very well. . . I did not see Valentino again for a year or so; in the interim he jumped to stardom. When we met he was diffident, until I said, 'Since I last saw you you have joined the immortals.' Then he laughed and dropped his defenses and became quite friendly.
"Valentino had an air of sadness. He wore his success gracefully, appearing almost subdued by it. He was intelligent, quiet and without vanity, and had great allure for women, but had little success with them, and those whom he married treated him rather shabbily. . . No man had greater attraction for women than Valentino; no man was more deceived by them." (My Autobiography by Charles Chaplin, Simon and Schuster, 1964)
Lois Wilson
". . . I did 'Monsieur Beaucaire' with Rudolph Valentino at the Long Island studio. That was wonderful. . . Rudolph Valentino was a genuinely good actor, a romantic young man and a gentleman with a lovely sense of humor but very serious and dedicated to his work. There was no tomfoolery on the set or anything. I had known Rudolph for a long time, ever since he played a bit in a picture with J. Warren Kerrigan and me at Paralta when he was really just starting. We used to have lunch together, and he'd tell me about his ambitions. This was long before he did 'The Four Horsemen of the Apocalypse' and became a star overnight. When we were filming 'Monsieur Beaucaire,' he and his wife, Natacha Rambova, gave a beautiful party for the company. We went to some very popular nightclub in New York, and it was a lovely evening. She was a charming hostess, and he was a charming host." (Speaking of Silents by William M. Drew, The Vestal Press, Ltd., 1989)
Clarence Brown
"I have had the opportunity and the pleasure and the good luck to direct the two people I consider were the greatest personalities of the screen - Rudolph Valentino and Greta Garbo. You'll be hearing about Valentino, who's been dead for forty years, and you'll be hearing about Garbo from now on as you have in the past. See how many of the other big stars are remembered in ten years. Garbo and Valentino are the two who are going down through posterity." (The Parade's Gone By by Kevin Brownlow, University of California Press, 1968)
Dagmar Godowsky
"We were at the Ship's Cafe at Santa Monica, where the executives at Metro were giving (Alla) Nazimova a dinner party. . .
"It was all very gay, and Maxwell Karger, the general manager of Metro, was toasting Nazimova when I saw a boy gliding across the dance floor toward me. He was handsome and dark, and as he came closer I recognized him. His name was Guglielmi and I had met him through Caruso at the Moulin Rouge in New York.
"He arrived at the table beaming with pleasure, and I started to introduce him, but Nazimova lowered her head and froze. Her little frame was rigid, and she looked as if she were having a divine fit. The whole table took its cue from her and, one by one, they, too, lowered their heads in this shocking form of grace. My voice trailed off and so did Guglielmi.
"Nazimova broke the tableau and thundered, 'How dare you bring that gigolo to my table? How dare you introduce that pimp to Nazimova?'
"I didn't understand. I soon found out. Signor Guglielmi had come to California to avoid a nasty scandal in New York. Diane de Saules, a wealthy Chilean, had murdered her husband all for love of this young man. Though he was innocent of any complicity, his name was anathema." (Note: Soon after he made "The Four Horsemen of the Apocalypse," Nazimova gave Valentino the role of Armand in her "Camille." ) (From First Person Plural by Dagmar Godowsky as related in More From Hollywood by DeWitt Bodeen, A.S. Barnes and Company, 1977)
Patsy Ruth Miller
Miller's first billed part was in Alla Nazimova's "Camille" (1921). Prior to beginning work on the movie, she became close friends with Nazimova and spent quite a bit of time at her house. Valentino, prior to his sudden rise to stardom, was also to be in the picture and spent quite a bit of time there, too. Miller and Valentino spent many hours in Nazimova's pool swimming, but nothing romantic ever developed between the two of them. Miller was 17, and Valentino was 26.
One evening when Nazimova was entertaining for dinner, Valentino, Miller and several other guests were there. According to Miller, Valentino began a story that told "something about a ballerina, something about being left waiting at the boat. . ." However, before Valentino progressed very far into the story, Nazimova spoke to him in Italian. Valentino said, "Oh, scusi," and the story came to an abrupt end. Miller felt the story had been halted due to her young age, and she protested to Nazimova but to no avail.
Sometime after World War II, Miller said she assisted in carrying foodstuffs to Scotland where there was still a shortage of many food items. She was invited to tea by a friend, and they were served by the maid, "a gaunt, middle-aged woman who looked more Slavic than Scottish. . ."
At one point when the maid left the room, the hostess asked Miller if she remembered a cinema star named Valentino. Without revealing her personal contact with Valentino in those early years, Miller simply replied, "Yes." "Well,"the hostess said, "she knew him personally," referring to the maid.
When the hostess left the house for her weekly ration of gasoline, Miller said she commented to the somewhat unfriendly maid, "I understand you knew Rudolph Valentino."
At first, when Miller said she knew him, too, the maid appeared uninterested. However, Miller added that she had appeared in a movie with him once. At that point, the maid's demeanor changed. She became more friendly toward Miller and confessed she had known Valentino once, too. When Miller asked the maid to tell her about it, she began her story.
She was Polish, she said, and a great ballerina before the First World War. She studied in Russia and danced before many of the crowned heads of Europe. One of her admirers was a German prince for whom she became somewhat of a spy sending him information as she traveled the continent.
When in Milano, Italy, she said she unexpectedly fell in love with a young student who was much younger than her. Although she was being unfaithful to her German Prince, although the affair had become a scandal, and although his family was terribly upset, she said they could not help their love.
When she left Italy, the young man followed her. For six months they were together during which time she taught him to dance, very easily, by the way, since he was so talented. While in Paris, she received word from her German Prince that the French knew of her spying.
She decided the safest place for her would be in America, so she obtained the necessary papers and sent her young lover on ahead to make sure all arrangements were made for their trip. Suddenly, all of her plans fell through. The police came and took her papers and passport away. It was only through the help of a former lover that she was able to escape to Spain. She had no way of contacting her young lover, and she said she somehow knew that he would go on to America without her and not miss this chance.
During the war she had to sell all her valuables, but, nevertheless, she did survive with the help of an admiring Spaniard.
Seven years later, the maid said, she saw her young lover on the screen and knew he had met with success. She said she never made any attempt to contact him. (My Hollywood, When Both Of Us Were Young, The Memories of Patsy Ruth Miller by Patsy Ruth Miller, O'Raghailligh Ltd., 1988)