NEW!!
Francis X. Bushman in His Own Words - An Audio Documentary
- based on Lon and Debra Davis' book King of the Movies: Francis X. Bushman,
culled from a 1957 interview with the great silent star!
(For an excerpt from the book, also see, "Romeo and Juliet - A Labor of Love")
Francis X. Bushman had a lot to say. And who could blame him? In addition to being one of the first major stars of motion pictures, he had been a bodybuilder, an artist's model, an actor in stock companies and on Broadway, a husband (four times), a father (six times), a dog breeder, a songwriter, a multi-millionaire, a bankrupt has-been, and an acquaintance of kings, queens, presidents, and gangsters. When he was in the prime of his career in the 1910s and '20s, an honest book about his life would no doubt have been a runaway bestseller. But by the time he was in his dotage and more than willing to reminisce, interest in personalities of his generation had dimmed. As much as he wanted his story told in the form of a full-length biography, no attempt at such a venture ever reached fruition.
Preserving Cinema History
In 1972 I made the acquaintance of Beverly Bayne, Bushman's leading lady and second wife. Beverly was spending her retirement in Scottsdale, Arizona, not far from my home in Phoenix. Despite our vast age difference (she was 78; I was 13), we became close friends. On numerous occasions, Beverly ranted about what a terrible husband Bushman had been to her during their 1918-1926 marriage. She was so vitriolic on the subject, in fact, that I decided to investigate the subject further. In 1981 I was joined in my study by my good friend Debra LaCoe. Just out of college, we spent our days going through reels of microfilm at the University of California at San Diego and making forays to Larry Edmunds Bookstore on Hollywood Boulevard to purchase several ancient (and overpriced) fan magazines and movie stills.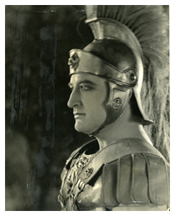 On a monthly basis we dutifully attended the somewhat eccentric meetings held by the Francis X. Bushman Futurama Club at Hollywood's Knickerbocker Hotel. One heady afternoon was spent at Metro-Goldwyn-Mayer Studios in Culver City, where 35mm prints of Bushman's silent features were screened especially for Deb and me. We also took a cross-country flight to Washington, D.C., to research the Bushman career at the Library of Congress.
Mrs. Bushman's Crusade
Deb and I weren't alone in our mission to memorialize Francis X. Bushman; we had a compatriot in his widow, the former Iva Richardson. Iva, a flamboyant and outspoken lady in her eighties, lived at 740 Hartzell Street, Pacific Palisades - the exact address at which Bushman had been living when the two first met in 1956. We gained Iva's trust slowly over time; during one of our visits to the Hartzell Street house, Deb even cooked a full-course pot roast dinner in the previously unused kitchen. Realizing that our interest in her husband was genuine, Iva granted us unprecedented access to "the Bushman memorabilia." In her dusty, crowded unattached garage were stacks of photographs, scripts, annotated notes, and reel upon reel of half-inch audio tape containing hours of her late husband's colorfully told anecdotes. There were also artifacts from his glory days, including the armor he wore as Messala in MGM's silent 1925 epic, Ben-Hur. At Iva's behest, we arranged to have these priceless items shipped to the Smithsonian Institution in Washington, D.C.
Obviously, there could not have been a wider chasm between Iva's and Beverly's perceptions of Francis X. Bushman, both as a husband and as a talent. Over time, we formed our own opinions. Onscreen he was undeniably charismatic, although he was occasionally over-the-top in his portrayals, and he could be downright stiff when handling dialogue in his later sound films. Financially and professionally, he was irresponsible to the point of being self-destructive. Personally, he was a distant father and - to his first two wives at least - he was a domineering and unfaithful husband. He was boastful about his accomplishments and often minimizing of his contemporaries. But it was precisely because of these foibles that we found the man to be so fascinating. We believed that others who read his story would feel the same way.
Facing Facts
Three years of study and writing resulted in a book-length manuscript entitled "King of the Movies: Francis X. Bushman." Producing it had been a labor of love; attempting to find a publisher proved to be an exercise in futility. After receiving 33 rejection slips, we finally abandoned the idea of having the manuscript published and put it on deposit at the University of Wyoming, where the late Beverly Bayne's papers are stored.
While Deb and I were disappointed by our failure to find a publisher, Iva was devastated. She died in 1988 at the age of ninety-four, believing to the end that her Francis had been the greatest star who ever lived.
Deb and I, on the other hand, were just beginning our lives together. We had fallen in love while collaborating on the Bushman project and were married in the fall of 1984. We moved from California to Oregon, where we co-founded a humane society. By 2008 we had returned to our roots by collaborating on another book, Silent Lives: 100 Biographies of the Silent Film Era. It was published by BearManor Media, an independent press in Albany, Georgia. BearManor's president and founder, Ben Ohmart, is a champion of vintage entertainment, and believes that well-researched books should be given a chance, regardless of their commercial appeal. With that in mind, Ben agreed to release King of the Movies: Francis X. Bushman in 2009. It had been revised with the assistance of authors Kevin Brownlow (The Parade's Gone By ) and David Kiehn (Broncho Billy and the Essanay Film Company). Both of these esteemed historians were impressed with what they read: "Splendid!" Kevin Brownlow wrote after reading the manuscript. "It has the delicate phraseology of the 1910s, which is ideal for the subject. The introduction by Iva Bushman imparts a sense of privilege that we are about to read a document that would not have been available had it not been for the Davises." Another consultant, Dr. Gene M. Gressley, the founder of the Rare Books and Special Collections Division at the University of Wyoming, said, "The narrative reads like fiction, which is really about as high a compliment as I can give. Francis X. Bushman walks off those pages."
Deb and I recently visited Francis X. Bushman's final resting place in the Freedom Mausoleum of Forest Lawn Memorial Park in Glendale, California. We reminisced about the years we spent in the spiritual company of this man, one of the screen's first romantic idols. Now, all these years later, we are seeing our words about him in print, in a beautiful book. And in October of 2009 we will celebrate our twenty-fifth wedding anniversary. Looking up at the crypt, I said with heartfelt appreciation: "Thank you, Mr. Bushman. Deb and I owe you more than we can say."
King of the Movies: Francis X. Bushman
includes
- An introduction by Mrs. Francis X. Bushman
- A full-length biography
- A critical analysis of surviving Bushman films by Kevin Brownlow
- 72 rare photographs, many from the personal collections of Francis X. Bushman and Beverly Bayne
- An extensive filmography by the authors and Essanay historian David Kiehn
- A chronology, bibliography, and index
Trade paperback, 363 pages (printed on alkaline paper)
ISBN-10: 1-59393-452-1
Available on Amazon.com for $24.95
To read an excerpt of King of the Movies: Francis X. Bushman, see
"Romeo and Juliet -A Labor of Love"
in the Articles and Essays section of the Silents Are Golden website.
copyright 2009 by Lon Davis; all rights reserved
---
Back to "Articles and Essays" page