Featured Film for August, 2000

"Peck's Bad Boy"

(1921)
Commentary
"It takes four pecks to make a bushel but only one small Peck to start a riot."
This very appropriate opening intertitle sets the tone for this wonderful little film which is a very appropriate follow-up to Jackie Coogan'' appearance in "The Kid" (1920). Based on the humorous series of newspaper stories by George Wilbur Peck, this film displays the true flavor of the original stories. The stories first appeared in 1882 and were still immensely popular in the twenties thanks to collections that were published in book form well after Peck's death in 1916. At the time "Peck's Bad Boy" appeared on movie screens in 1921, all of America was familiar with these stories, and who better the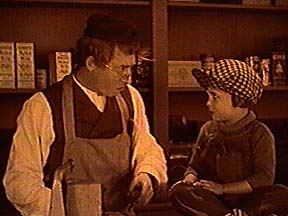 play the part than the newest and brightest child star around ­ Jackie Coogan.
Much of the humor in the film is straight from the Peck's Bad Boy stories or adaptations of the type of humor found in those stories. For example, in one of the stories, Henry's Pa (who, by the way, is often pictured as a drunkard in the newspaper stories) attends a rabidly puritanical church service and finds his handkerchief soaked in rum and stuffed with playing cards. In the movie, the family attends a church service, and Henry has loaded his father's lumbago pad with ants which become active right in the middle of the service. Of course, when he pulls out his handkerchief to wipe his brow, playing cards (which Henry had placed there) fly all over the pew.
Other very typical situations include Henry letting a man-eating lion out of his cage at the circus, having his friend pose as a woman to blackmail money from his father for the circus, and hiding the inventor's plans in Jack Martin's pocket. The stories had a multitude of situations from which to draw such as subsituting pieces of rubber tubing for his father's noodles, lining his father's hat with limburger cheese, and convincing his Pa that he's crazy when he sees green and blue poodles ­ the poodles were actually being used for an advertising gimmick. It's a wonder Jackie wasn't starred in a series of these Peck's Bad Boy movies . . . and a shame, too!
The parts are well-cast, too. As mentioned, Jackie Coogan makes a fine Henry Peck. James Corrigan was an excellent pick for the second most important role in the film, that of Pa Peck. Corrigan's "flustering" at the antics of his son (particularly the ant episode in the church) are superb comedy. This actor had done only a few films prior to "Peck's Bad Boy," and sadly he only made a handful more having passed away in 1929. Veteran actress Lillian Leighton (she'd made 50 or more films before "Peck's Bad Boy") does her usual commendable job as the loving mother who thinks her son does no wrong. Wheeler Oakman is good enough as the likeable Dr. Jack Martin, and Doris May looks sweet and adorable as Henry's sister, Letty, who's in love with the good doctor.
Sam Wood did the directing, and gave us a well-packaged film with well-defined characters, tight editing,, a good pace that holds the interest, and a neat climax. Although he directed many silents, his greatest achievements were to come in the 1930's and 1940's with such films as "A Night at the Opera," "Goodbye Mr. Chips," "Kitty Foyle," "Pride of the Yankees,"
and more.
Of the Peck's Bad Boy newspaper stories, one writer noted, "There is little in Peck's Bad Boy about who rules whom, or who fought wars with whom, or who exploited whom ­ but there is a great deal about what Peck's contemporaries considered holy, and what they laughed at." Although the writer is writing about Peck's portrayal of the "everyday man" in the late 19th century, the movies succeeds on this point, too, giving us what appears to be a good look at little boys trying to keep themselves occupied and entertained in the early part of this century, albeit somewhat caricatured, and well before television and even radio became popular forms of entertainment. One of the charms of the film is that is gives us a true twenties flavor ­ the circus coming to town, when trains were the main mode of travel, hanging out at the local grocer's who had food in barrels!!
By the way, the scenes in the grocer's store are straight from the Peck's Bad Boy newspaper stories which served as Henry's "hang out." Raymond Hatton is excellent as the grizzled old storekeeper who watches the young boy eat everything in sight without saying a word ­ only keeping a record of the "eats" and their cost in Mr. Peck's ledger.
The story line is not a literary masterpiece, but it is good fun and touches all the sensibilities that we like so much in a movie. There's humor in the various pranks little Henry pulls. There's a love interest between Jack and Letty. There's compassion when Henry uses his church money to buy the little girl another ice cream cone. There's tenderness touched with sadness when Henry's dog is taken away by the dog catcher. There's drama when Jack is falsely accused of taking the inventor's plans, and there's rousing excitement when Jack must rescue Henry from the oncoming train. All in all, it's a fast moving, well-paced 54 minutes of fun.
opyright 2000 by Tim Lussier, all rights reserved


---
"Peck's Bad Boy" synopsis
Scenes from the Movie
---
Return to "Peck's Bad Boy" page